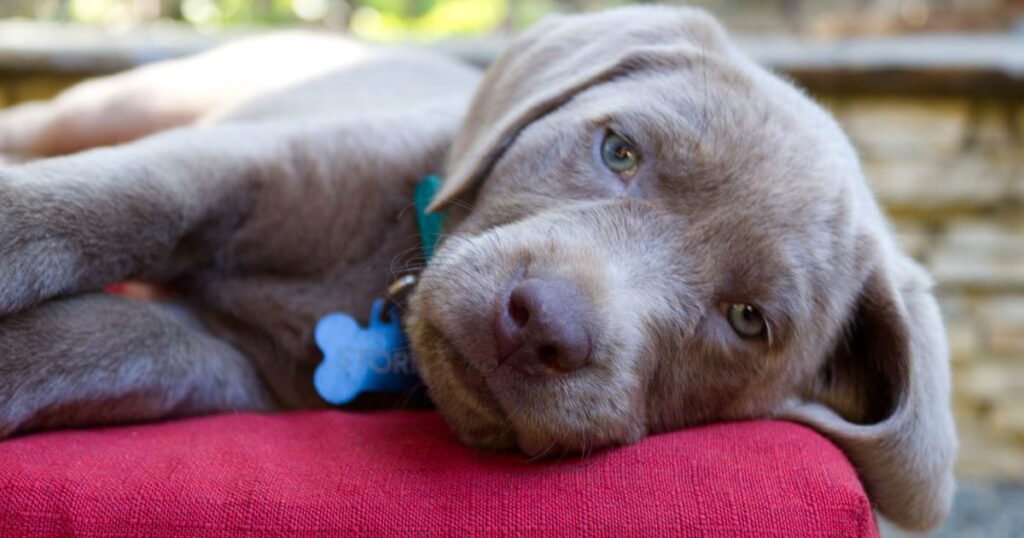 Silver Labradors are a fascinating and unique variation of the popular Labrador Retriever breed. These dogs possess a stunning silver-gray coat that sets them apart from their more commonly known counterparts such as the black, yellow, and chocolate Labs. The silver coat is attributed to the dilute gene, which transforms the chocolate fur into a pale, silvery shade. This eye-catching feature, however, is also the subject of much controversy and debate among Labrador enthusiasts and breeders.
Originating as a variant of the chocolate Labrador Retriever, silver Labs have a coat with a "watered-down" appearance, giving them the gray-blue color for which they are best known. Some refer to them as gray or blue Labradors as a result of this unique hue. Although their coat color is unmistakable, some Labrador breeders and enthusiasts have questioned the purity of their lineage, sparking a polarizing debate within the Labrador community as to whether silver Labs should be considered "true" Labradors.
In spite of this ongoing controversy, silver Labradors remain well-loved for their friendly, playful, and energetic nature. These dogs excel in many activities such as water sports, fetch games, and outdoor adventures. They are also known for their intelligence and trainability, making them a great companion for active families and those seeking a loyal, affectionate pet.
Meet the Silver Lab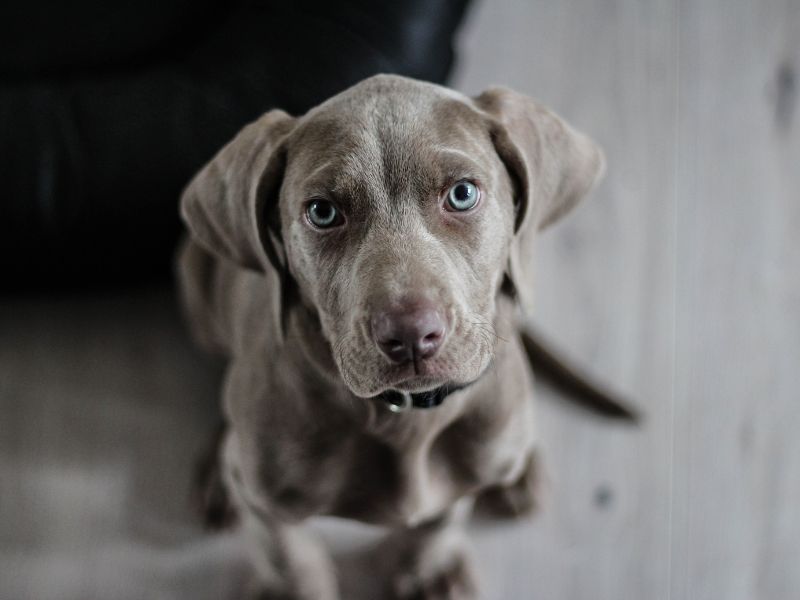 The Silver Lab is a unique variation of the popular Labrador Retriever, characterized by its distinct coat color. This breed, which sports a shimmery metallic-gray or blue-gray fur, has gained popularity over time, thanks to its striking appearance and kind temperament (source).
Found primarily within the chocolate Labrador Retriever strain, the Silver Lab's color comes from a dilute gene that produces the "watered-down" gray-blue coat (source). These dogs can be found in various shades of silver, from a light version that almost looks blue to a darker tone with a tinge of reddish-brown hues (source).
With regard to size and build, Silver Labs are no different from other Labrador Retrievers. They are medium-sized, well-built dogs with a large head, a thick tail, and a short, dense coat (source). Known for being lively, fun, and friendly pets, these Labradors are ideal companions for active families (source).
While their unique coat color may be captivating, it is essential to prioritize their overall health and well-being. Just like other Labrador Retrievers, Silver Labs require a balanced nutrition plan, regular physical activity, and proper veterinary care to ensure they lead long, happy lives (source).
Silver Lab FAQ
Silver Labradors are a unique and eye-catching variation of the Labrador Retriever breed, known for their beautiful silvery-gray coat color. In this FAQ section, we will address common questions and misconceptions about Silver Labs to help you better understand this lovely breed.
What is a Silver Lab?
A Silver Lab is a Labrador Retriever with a distinct coat color that is a light shade of gray, which may sometimes appear bluish. This coat color is due to the presence of the dilute gene which turns their chocolate fur into a pale silvery gray (source).
Are Silver Labs purebred?
Although there is some controversy surrounding the purity of Silver Labs, they are indeed recognized as purebred Labrador Retrievers. The controversy stems from the fact that the silver color is not recognized by some breed standards, leading some to question their purity. However, Silver Labs are recognized and registered by the American Kennel Club (AKC) under the chocolate color category (source).
What is the temperament of Silver Labs?
Silver Labs share the same friendly, lively, and affectionate temperament as their other Labrador counterparts. They are great family pets, suitable for active homes, and enjoy at least 60 minutes of daily exercise, including activities like walking, running, playing, and swimming (source).
How big do Silver Labs get?
Male Silver Labs typically grow to a height of 22.5 to 24.5 inches (57 – 62 cm) and weigh between 65 to 80 lbs (27 – 36 kg). Female Silver Labs are slightly smaller, reaching a height of 21.5 to 23.5 inches (54 – 60 cm) and weighing between 55 to 70 lbs (25 – 32 kg) (source).
How do I take care of a Silver Lab?
Caring for a Silver Lab involves providing them with regular exercise, a balanced diet, and routine grooming to maintain their beautiful coat. As with any Labrador Retriever, Silver Labs can also benefit from early socialization and consistent training to help them become well-behaved pets.
How much is a silver Lab?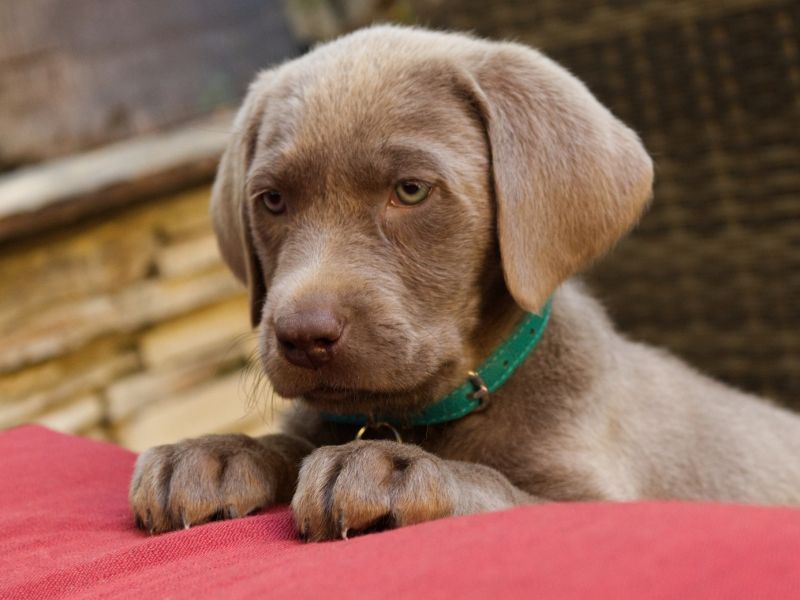 Silver Labrador puppies typically cost around or upwards of $1000, with the price often being higher than that of a Lab in one of the three recognized colors. This is because people are often willing to pay more for something they believe to be unusual, such as the unique appearance of a silver Lab. However, whether or not these higher prices are justified remains a topic of debate within the Labrador community.
Are Silver Labradors Overpriced?
There are arguments on both sides of the spectrum as to whether silver Labradors are overpriced, and it generally comes down to personal opinion. Some might argue that the rarity and distinctive look of a silver Lab could warrant higher prices, while others may claim that there are no significant differences in temperament or abilities between a silver Lab and a Lab of a recognized color. To make an informed decision, potential buyers should consider the various factors, such as rarity, appearance, and temperament differences, that could influence the price before making a purchase.
When considering purchasing a silver Lab, it's essential to research reputable breeders who prioritize the health and well-being of their dogs. While it's natural to be drawn to the unique appearance of a silver Lab, the main focus should always be on finding a healthy, well-adjusted puppy with a good temperament. This can sometimes mean sacrificing a slightly lower price tag for a puppy from a trustworthy breeder who invests time and effort into ethical breeding practices.
Are Silver Labs Good Family Dogs?
Silver Labrador Retrievers are known for their unique coat color and have become increasingly popular in recent years. As a variant of the traditional Labrador Retriever, Silver Labs share many characteristics that make them suitable family dogs.
These dogs are known for their intelligence, loyalty, and eagerness to please, which makes them easy to train and adaptable to various family situations (source). They are also friendly and affectionate, allowing them to get along well with children and other pets (source).
While Silver Labs can be more energetic than their black or chocolate counterparts, this trait can be ideal for active families who enjoy spending time outdoors (source). Keep in mind that their high energy levels may not be a good match for toddlers or those unsteady on their feet (source).
When it comes to socializing, Silver Labs are naturally friendly and can develop strong bonds with their human families. However, as with any breed, early socialization is key to ensuring a well-rounded and polite dog.
In summary, Silver Labs have many qualities that make them excellent family dogs. By considering your family's lifestyle and investing time in training and socialization, a Silver Lab could be the perfect addition to your home.
How Big Do Silver Labs Get?
Like other Labrador Retrievers, the size of silver Labs depends on their gender, with males typically being larger than females. Male silver Labs generally grow to be about 22 to 25 inches in height and weigh between 65 and 80 pounds. Female silver Labs, on the other hand, can grow to around 21.5 inches in height and weigh anywhere between 55 and 70 pounds.
The overall height range for Labradors is quite broad, so it is not uncommon for individual dogs to vary a couple of inches higher or lower than the standard measurements. Some factors like genetics, diet, and exercise can influence the growth and size of silver Labs, just as they do with other Labrador Retrievers.
Here is a summary of silver Lab size based on gender:
| Gender | Height | Weight |
| --- | --- | --- |
| Male Silver Labs | 22-25 inches | 65-80 pounds |
| Female Silver Labs | 21.5 inches | 55-70 pounds |
Overall, the silver Labrador Retriever grows to be about the same size as other colors of Labs. Consequently, potential owners can expect the breed's typical characteristics in terms of size, while also enjoying the distinctive appearance of the silver coat color.
Are Silver Labs Rare?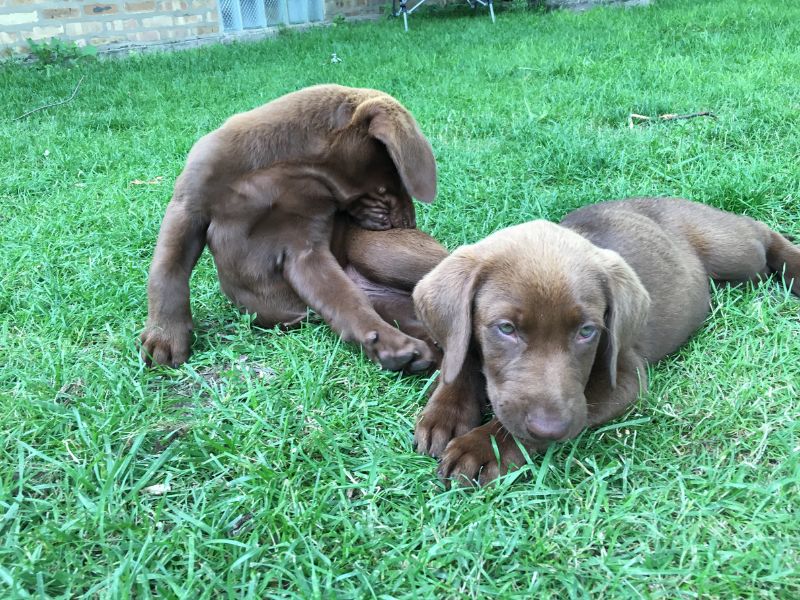 Silver Labs were once considered a rarity in the past, particularly during the 1950s. However, their popularity has grown over time and they are no longer as rare as they once were (Bubbly Pet). The increase in the number of breeders and enthusiasts has resulted in a higher availability of Silver Labs.
Nevertheless, when compared to other Labrador colors such as black, yellow, or brown, Silver Labs are relatively harder to find and could be considered more unusual (The Labrador Site). The Silver Lab is still a newer color variant of the traditional Labrador Retriever and is distinguished by its unique gray or silver-hued coat (Tryfi Blog).
In terms of eye color, some Silver Labs may retain blue eyes into adulthood or have light green eyes instead of the common yellow, which adds to their uniqueness and rarity (K9 Web).
It is essential for potential Silver Lab owners to research and find trusted breeders, as the demand for this unique color could lead to unethical breeding practices. This will not only ensure that you get a healthy and well-bred Silver Lab but also help to maintain the integrity of the breed.
The Breed at a Glance
Silver Labradors, which are often registered under the color Chocolate in the USA, are not as rare as they used to be but are still harder to find than their black, yellow, or brown counterparts (The Labrador Site). These unique dogs are known for their silver-gray coats which come from a dilute gene (TryFi).
As part of the Labrador Retriever breed, Silver Labs share the same general characteristics as other Labradors. Being originally bred in Newfoundland, Labradors (including the silver variety) gained popularity in the United States as hunting companions and retrievers (PetKeen).
Known for their friendly and enthusiastic temperament, Silver Labs make excellent pets for active homes (Labrador Council). When it comes to physical traits, they typically weigh between 65-80 lbs, which is similar to other Labrador Retrievers (Labrador Council).
In summary, Silver Labradors are unique in appearance but share many qualities with the different colored Labrador Retrievers. The silver-gray color, which comes from a special dilute gene, makes them stand out from the rest of the Labrador Retriever breed (TryFi). Friendly, enthusiastic, and well-suited for active homes, Silver Labs are an interesting and eye-catching addition to the popular Labrador Retriever breed.
Silver Lab Characteristics
Silver Labs are known for their unique and striking silver-gray coats, which are a result of a dilute gene that turns their chocolate fur into this lovely shade of silver. Apart from their coat color, Silver Labs also exhibit the typical traits of a Labrador Retriever.
These lovable dogs are known for their friendly, social, and outgoing personalities. They usually grow to be between 21-25 inches tall and weigh anywhere from 55 to 80 pounds, with males generally weighing about 10 pounds more than females source.
Both male and female Silver Labs may be prone to weight gain, so it's crucial to monitor their diet and exercise regimen to maintain a healthy lifestyle.
Controversy!
Despite their captivating appearance, Silver Labs have been the subject of some controversy in the dog world. Some breed enthusiasts argue that their silver coat is the result of improper breeding practices or unrecognized breeds being mixed in, leading to debate about their true classification.
Nonetheless, many Labrador Retriever lovers have embraced the Silver Lab for their unique coat color and continue to appreciate their energetic and friendly nature. While they may not be entirely accepted by all, their charm and appeal are hard to resist for those who get to know these loving companions.
Labrador Coat Color and the Dilute Gene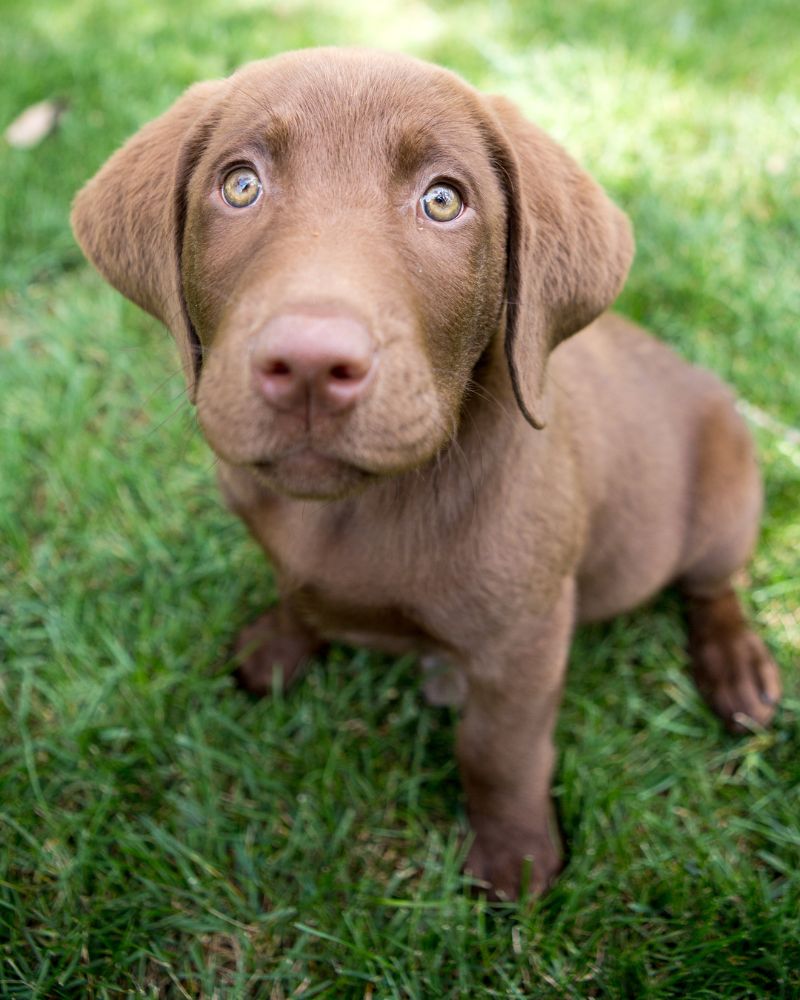 Labrador Retrievers are well-known for their beautiful coat colors, which typically come in three main shades: black, chocolate, and yellow. However, there exists a unique group of Labs with dilute coat colors, such as silver, charcoal, and champagne, all thanks to the impact of the dilute gene.
How the Dilute Gene Works
The dilute gene is responsible for the lighter, more muted colors found in silver, charcoal, and champagne Labs. This gene acts on the basic coat colors, altering their appearance by diluting their pigmentation. In silver Labs, the dilute gene affects the chocolate coat, while in charcoal Labs, it impacts the black coat, and for champagne Labs, it modifies the yellow coat (source).
Gene Combinations
Combinations of the dilute gene – DD, Dd, or dd – determine the appearance of a Labrador's coat. When two "d genes" are paired together (dd), the dilution effect occurs, resulting in a lighter coat color for the Lab (source). For example, when two carriers of dilute variants are mated, it's expected that 25% of their offspring will display dilute coat colors (source).
In summary, the dilute gene plays a significant role in the unique and lighter coat colors of silver, charcoal, and champagne Labradors. By understanding how this gene operates and the impact of various gene combinations, we can better appreciate the genetic factors contributing to the captivating hues of these beautiful dogs.
Where do Silver Labs Come From?
Silver Labradors are a unique color variation of the popular Labrador Retriever breed. They first appeared in the United States in the 1950s, with one of the early kennels producing silver Labs being Culo Silver Labs. The owner, Dean Crist, participated in an interview where he discussed the history of silver Labs.
The origin of Labrador Retrievers can be traced back to Newfoundland, Canada. They are descendants of the St. John's Water Dog, an extinct dog breed once used by fishermen and hunters as working dogs in the 1800s. This ancestral breed was black in color and sometimes referred to as the lesser Newfoundland. Gradually, Labradors evolved, and different color variations emerged, including silver.
One theory suggests that the silver color in Labradors might be due to gene "d". This is the same gene present in Weimaraner dogs, leading to speculation that silver Labs could be the result of crossbreeding between Chocolate Labs and Weimaraners. Some silver Labs even have ears similar to those of Weimaraners, supporting this hypothesis.
Regardless of the exact origins, silver Labs have become an increasingly sought-after variation of the classic Labrador Retriever. While their color may vary from dog to dog, they still possess the friendly temperament and loyal nature that make Labradors one of the most beloved dog breeds worldwide.
How did the dilute gene get into Labradors?
Mixed breeding
One possibility for the introduction of the dilute gene in Labradors is through mixed breeding. Although most breeders strive to maintain the purity of the breed, there can be instances of unintentional or purposeful cross-breeding with other breeds that carry the dilute gene, such as Weimaraners, Greyhounds, and Whippets source.
Spontaneous mutation
Another potential cause for the presence of the dilute gene in Labradors is spontaneous mutation. Genetic mutations occur randomly in any species, including dogs, and can result in the appearance of new traits, such as coat color variations. It is possible that the dilute gene emerged as a random mutation in Labradors and then spread through the population with time.
Hidden genes
Labrador coat color genetics are complex, with several genes involved in determining a dog's coat color. The dilute gene, represented by two "little d" alleles (dd), can be present in a dog without becoming expressed if it is not paired with another dd allele source. This means that the dilute gene may have been hidden, existing in Labradors for generations, but only recently became noticeable as a result of certain breeding practices that led to the pairing of two dd alleles more frequently.
Colors can be dominant or recessive too
In addition to the dilute gene, Labradors have other genes that determine the dominant and recessive expression of their coat colors. These genes can be represented as "B" for black and "b" for chocolate, with the yellow color being coded on a separate gene altogether. As with the dilute gene, the pairing of different dominant and recessive color genes can result in various shades and coat colors in Labradors, such as charcoal and silver coats when the dilute gene is present source.
Silver Lab Temperament and Training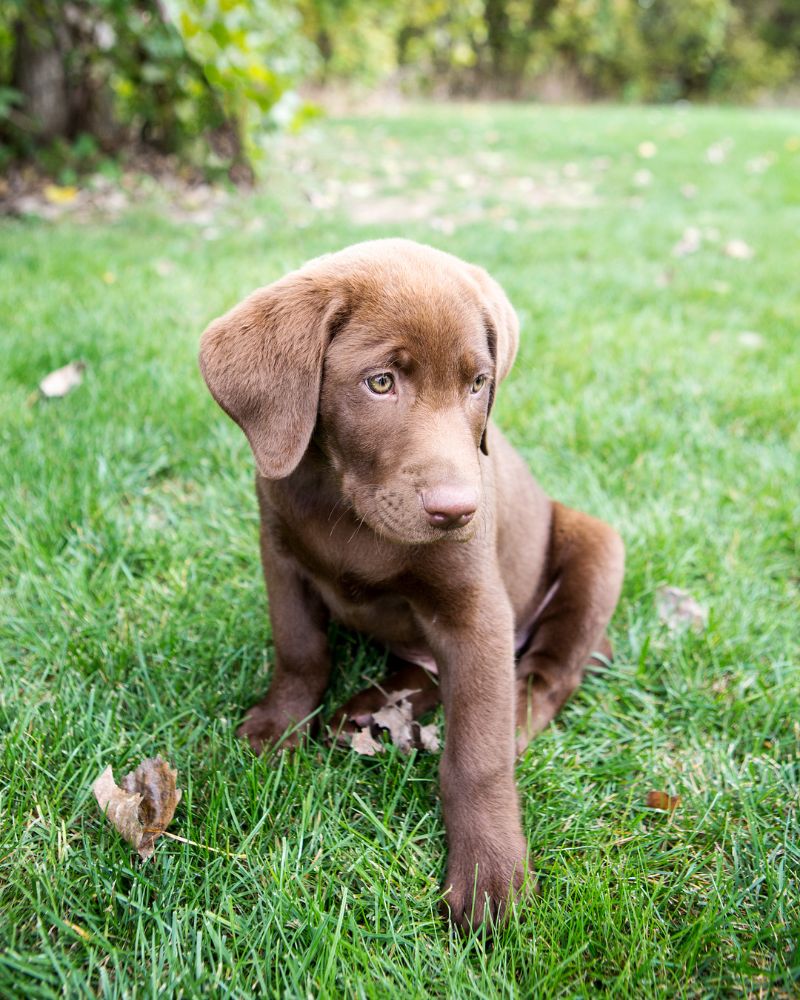 Silver Labradors share the same friendly, affectionate, and caring temperament as their traditional counterparts. They are known to be very intelligent, energetic, loyal, and sociable dogs. Their unique grayish-blue coat color sets them apart but does not affect their personality or behavior source.
Training a Silver Lab is essential for controlling their temperament and ensuring they become well-behaved pets. Silver Labs are likely to thrive in an environment with consistent, positive reinforcement training, making them excellent companions for families with children due to their gentle and patient nature source.
Some key aspects of training a Silver Lab include:
Socialization: Exposing puppies to various people, animals, and environments helps them develop confidence and adapt to different situations.
Obedience Training: Teaching basic commands such as sit, stay, and come is crucial for communication and building a strong bond between owners and their dogs.
Exercise and mental stimulation: As an energetic breed, Silver Labs require adequate exercise and mental stimulation to help prevent boredom and undesirable behaviors.
It's important to start training and socialization early for Silver Lab puppies to ensure they grow into well-adjusted and obedient adult dogs source. With consistency, patience, and positive reinforcement, Silver Labs can become excellent family companions who display the best of the Labrador traits.
Silver Labrador Health and Longevity
Silver Labradors, like other Labrador Retrievers, possess a friendly and sociable nature, making them excellent family pets. Typically, their average lifespan ranges from 11 to 12 years, although this can be influenced by genetics and predispositions to health concernssource.
One common issue in Labradors is obesity, as their ideal weight should be between 50 lbs (23 kg) to 80 lbs (36 kg). Nevertheless, many Labs tend to weigh more than the recommended limit, with some reaching 90 lbs (40 kg)source. Overweight Labradors have an increased risk of developing health problems such as:
Cancer
Arthritis
Heart Failure
Maintaining a healthy weight and providing regular exercise are crucial for Silver Labs' overall health. Furthermore, potential Silver Lab owners should be aware of the possibility of several other health concerns, including hip and elbow dysplasia and eye-related issues.
Regular veterinarian checkups will aid in detecting and managing any health problems early, thus contributing to the wellbeing and longevity of a Silver Labrador.
Color Dilution Alopecia
Color dilution alopecia (CDA) is a genetic recessive inherited condition that affects some silver Labrador retrievers. Resulting from a dilute gene, this condition gives silver labs their unique color, turning their chocolate fur into a pale silvery gray. CDA, however, also causes patches of hair thinning or loss, which can be accompanied by flaky and/or itchy skin source.
Affected silver labs are typically born with a normal hair coat, but before they reach one year of age, they start to develop folliculitis and hypotrichosis. This progressive hair loss primarily occurs in the blue or fawn-colored areas of the coat source.
Some common symptoms of color dilution alopecia in silver labs include:
Gradually thinning hair
Alopecia in dilute-colored areas of the coat
Scaling and flaking of the skin
Itching and potential secondary skin infections
Treatment options for silver labs with CDA may include medicated shampoos and topical ointments to address secondary skin infections, flakiness, and itching. It is also essential to provide a balanced diet and regular grooming to help maintain the overall health of the dog's skin and coat source.
Keep in mind that although color dilution alopecia is a relatively common issue in silver labs, it does not affect every dog of this variety. Regular check-ups with a veterinarian and proper care can help manage the condition in affected dogs.
The Silver Labrador Debate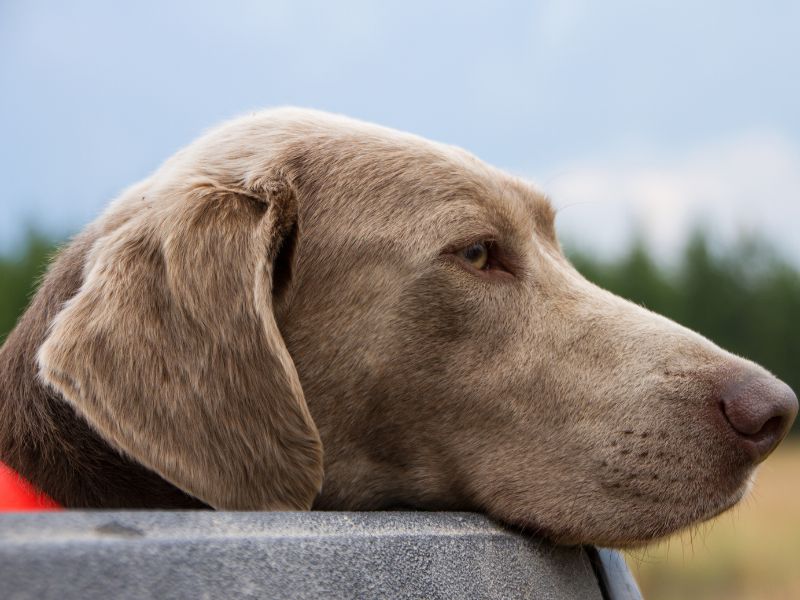 Are Silver Labs Pure Bred?
One of the central debates surrounding silver Labradors is whether they are purebred or not. Some argue that the presence of the recessive gene necessary for the silver coat color indicates that these dogs are not purebred Labradors, but rather part Weimaraner (Labrador Wise).
Restricted Gene Pools
Another issue of concern is the restricted gene pool of silver Labs. Because silver Labs require two copies of the dilute gene to produce their distinctive coat, breeding for this color may result in a more limited gene pool, increasing the chances of genetic health issues.
Do the AKC Recognize Silver Labs?
The American Kennel Club (AKC) does recognize silver Labradors as purebred; however, their coat color is not considered a breed standard. As a result, silver Labs can be registered with the AKC, but they may not qualify for certain dog show competitions (Dogs and Clogs).
Are Silver Labs Inbred?
Breeding for specific traits, such as the silver coat, could potentially result in inbreeding among silver Labs. While the degree of inbreeding will vary among individual dogs and breeders, it is important for potential owners to research and select responsible breeders to reduce the risk of genetic health issues.
Bad Breeders
Unfortunately, some breeders may focus on producing silver Labs solely for their unique coat color, disregarding other important factors such as health and temperament. This can result in poorly bred dogs with an increased risk of health and behavioral problems. It is crucial for potential owners to thoroughly research breeders and ask questions about health testing, parentage, and overall care in order to ensure they are bringing home a healthy, well-bred pup (Love Your Dog).
Silver Labrador Puppy: Buying Tips
When considering buying a silver Labrador puppy, it's essential to do thorough research to find a reputable breeder. Since silver Labradors are a unique variety with specific needs, it's crucial to gather the correct information and find a trustworthy source for your new furry friend.
One essential factor is to ensure that the breeder conducts proper health testing on their dogs. Silver Labradors can inherit certain health issues, so it's vital to choose a breeder who tests their dogs and can provide proof of these tests. Ensuring that both parents have excellent health records will help to minimize the risk of any inherited health problems in your puppy.
Another important aspect is to look for breeders who prioritize the socialization and early training of their puppies. A well-socialized silver Labrador will have a better temperament and will adjust more easily to your family and home environment. You can find out more about the socialization process by asking breeders how they expose their dogs to various people, animals and environments. It's important to choose a breeder who integrates socialization in their puppies' daily routine.
When looking for a silver Labrador puppy, it's also crucial to consider the financial aspect. The typical Labrador puppy price can range from $500-$2500, depending on factors like location and breeder reputation. Don't be tempted to buy a cheaper puppy from a less reputable breeder just to save money, as this may lead to future health and behavioral problems that could cost you more in the long run.
Finally, it's always a good idea to visit the breeder's facility and meet the puppies and their parents in person. This will give you an opportunity to see the environment in which the puppies are raised and assess the temperament of the parents, which can give you an indication of how your silver Labrador might behave as it grows older.
By following these tips and doing thorough research, you can find a silver Labrador puppy that suits your family and will become a loving, sociable companion.
Pros and Cons of Silver Labs
Pros
Silver Labs are known for their lively, friendly, and fun nature, making them excellent family pets. They are especially suitable for active households due to their high energy levels and love for physical activities (The Labrador Site).
Their unique coat color, resulting from the dilute gene which turns their chocolate fur into a pale silvery gray, gives Silver Labs a distinctive and attractive appearance (The Labrador Site). This coat color can vary in shades, from a light silver that almost looks blue to a dark silver with a reddish cast (K9 Web).
Compared to their darker counterparts, Silver Labs typically have a milder temperament. This trait makes them ideal for owners who want a family pet that can also function as an effective working dog when necessary (Dogbreedslist.info).
Cons
Both male and female Silver Labs are prone to unwanted weight gain and obesity. Thus, it is essential for owners to monitor their food and treat intake to maintain their health (Petventuresbook).
As a result of their genetically diluted coat, Silver Labs possess less pigmentation and stand out in dense vegetation. This may make them more visible to prey animals, potentially affecting their hunting capabilities (Labrador Council).
Finally, the attractive silver coat of these Labs has been a source of controversy in the dog breeding world. Some breeders and organizations do not recognize Silver Labs as purebred Labrador Retrievers due to questions surrounding their lineage (The Labrador Site).
Silver Labs – Summary
Silver Labs are a unique variation of the Labrador Retriever, characterized by their distinctive silvery-gray coat color. They owe their distinctive appearance to the presence of a dilute gene, which transforms their chocolate fur into a pale silvery gray shade (The Labrador Site).
Also referred to as Blue Labradors or Gray Labradors, Silver Labs are known for their friendly and lively temperament, making them excellent family pets (Bubbly Pet). They generally possess the same delightful personality traits as other Labrador colors, such as intelligence, athletic ability, and a stable temperament (Labrador Wise).
Despite their attractiveness, Silver Labs have also been the subject of controversy. Their rarity and the presence of the dilute gene have led to skepticism and debates among dog enthusiasts and breeders. Silver Lab puppies typically cost more than other Labrador colors, with prices ranging from $800 to $1500 (Petventuresbook).
In summary, Silver Labs are a unique and visually striking variant of the Labrador Retriever breed. Their friendly nature, combined with their rare coat color, makes them highly sought after pets. However, it is essential for potential owners to be aware of the controversy surrounding these dogs and to seek reputable breeders when considering adding a Silver Lab to their family.