Dogs are naturally curious and playful creatures, but when their playfulness turns into excessive digging in the backyard, it can become a concern for dog owners. Understanding why dogs dig is essential to finding the right solution. Various reasons could trigger this behavior, from boredom and anxiety to hunting instincts and seeking comfort.
To help dog owners address this issue, an array of techniques can be applied to stop their furry friends from turning the yard into a construction zone. These methods may involve increasing physical and mental stimulation, modifying the digging environment, and redirecting the dog's focus to other activities.
This article will delve further into the factors that lead to digging behavior and discuss practical tips and recommendations to effectively stop a dog from digging. By finding the best approach that suits each dog's unique needs and personality, owners can enjoy a more harmonious and peaceful relationship with their pets.
How Do I Stop My Dog Digging?
Dogs love to dig, but it can be frustrating for owners when they start digging up the yard. Luckily, there are several ways to discourage this behavior. One method is to use bad smells to deter digging, as dogs have a strong sense of smell. Covering the digging area with an unpleasant scent can make it unappealing to the dog and stop the digging behavior.
Another option to consider is providing a comfy burrow bed for the dog, especially if they are digging to create a cozy space. If the dog is digging to cool down, cooling vests and mats can provide relief and prevent the need for digging.
Dogs sometimes dig to escape, so be sure to block any underground exit paths in your yard. You can also provide distractions like sandboxes for your dog to dig in, which allow them to satisfy their digging instincts without ruining your lawn.
Punishment is not an effective solution for digging. Instead, use positive reinforcement to reward good behavior and discourage digging. Boredom is often a cause of digging, so make sure your dog is engaged and happy. Regular playtime with active toys like balls and flying disks can help, as can teaching the dog new commands or tricks.
Keep interesting toys in the yard for your dog to play with when you're not around. This way, your dog will have alternatives to digging when you're not there to supervise. Finally, consider taking a training class with your dog to learn more ways to manage your dog's behavior and prevent digging.
Remember to be friendly and patient with your dog as you try these various methods. Every dog is different, and it may take several attempts to find the right solution to stop your dog from digging. Keep it brief and concise while still providing valuable information to help your dog stop digging.
Why Do Dogs Dig Holes?
Dogs dig holes for various reasons, and understanding these motivations can help address this behavior. In some cases, digging is an instinctual habit passed down from their ancestors who lived in the wild.
One reason dogs dig holes is to regulate their body temperature. On hot days, the earth a few feet below the surface is cooler than the air, and dogs may dig to find relief in the cooler soil. Similarly, in colder months, they might dig to create a cozy spot that provides insulation against the cold.
Boredom is another factor that can lead to dogs digging holes. Canines are social animals, and those who spend a lot of time alone may resort to digging to keep themselves entertained. Providing mental stimulation, such as puzzle toys and training sessions, can help alleviate boredom and prevent destructive digging.
Lack of exercise can also contribute to digging behavior in dogs. Proper playtime and physical activity, including walks, fetch, or frisbee games, can help keep your dog's energy levels in check, so they don't feel the need to dig for entertainment or to release pent-up energy.
Dogs with a strong hunting instinct or earthdog heritage may dig when they sense prey or follow its scent into the ground. While this behavior can be difficult to control, providing alternative outlets for their instincts through interactive toys or games can help redirect their digging energy.
Remember that digging is a natural behavior for dogs. Addressing the underlying causes and providing appropriate outlets for their energy and instincts can help minimize the occurrence of digging holes in your yard without stifering their natural instincts.
Temporary Changes to Your Dog's Situation
Sometimes, a dog's digging behavior can be attributed to temporary changes in their environment or routine. It's essential to identify these changes and find solutions to reduce stress and anxiety in your dog.
One common reason for digging is boredom. To address this issue, you can provide more interactive toys or engage in playful activities like fetch, tug-of-war, or hide-and-seek. Daily exercise and outdoor activities not only keep your dog physically fit but also mentally stimulated.
Another factor that may lead to digging is separation anxiety. If your dog is digging due to stress from being alone for extended periods, consider arranging for a friend, family member, or pet sitter to spend time with them while you're away. Alternatively, you could look into doggy daycare options in your area where your furry friend can socialize with other dogs.
Training classes can also help to alleviate digging behaviors. Enrolling your dog in obedience or agility courses can strengthen the bond between you and your pet while teaching them valuable skills. Setting aside time each day to practice new commands or tricks can not only reduce digging but also improve communication and overall behavior.
Lastly, if your dog tends to dig in specific areas of the yard, try creating designated digging spots or sandboxes for them to explore. This will give them an appropriate outlet for their instincts while keeping the rest of your garden looking pristine.
By addressing the root causes of your dog's digging habits, you can create a happier and healthier environment for both you and your furry friend.
Dogs Enjoy Digging
Dogs naturally love to dig. It's an instinctive behavior that can be motivated by various reasons. For some dogs, digging is a way to release excess energy or alleviate boredom. In other cases, dogs might dig to cool off on hot days by exposing cool earth or to find a comfortable spot to lie down.
Playing energy-burning games, such as fetch and frisbee, can help keep dogs entertained and reduce the need to dig out of boredom. Incorporating puzzle toys into a dog's daily routine can also provide much-needed mental stimulation and encourage them to focus on something other than digging.
Another reason dogs may dig is to create a designated digging spot or a sandbox in the yard. Encouraging them to dig in this specific area can help divert their attention from other places you'd like to keep pristine. Burying treats and treasures for your dog to discover in the designated area can make digging a rewarding experience and reinforce the correct digging habits.
Remember that dogs digging is a natural behavior. Providing them with appropriate outlets and managing their energy levels can go a long way in preventing unwanted digging without causing them unnecessary stress or suppressing their instincts altogether. A friendly and understanding approach can help both you and your beloved canine companion coexist harmoniously.
Dogs Digging To Hide Extra Food
Dogs are known for their digging habits, and one of the reasons they do so is to hide extra food. This behavior goes back to their wild ancestors, who would bury excess food or prized possessions as a way to save them for later. In domesticated dogs, this instinct still exists, and some dogs will dig holes in the yard to stash away their precious chews.
To minimize this type of digging, you can start by managing your dog's environment more efficiently. For example, if you're feeding your dog outdoors, clean up any leftover food or bones immediately after they are done eating. This will help prevent dogs from wanting to dig holes to save leftovers for later, as those leftovers will no longer be present.
Further steps can be taken to prevent digging for food storage reasons. If your dog enjoys chewing on bones, attempt to monitor their chewing sessions and remove any leftovers before they're inclined to bury them. Providing your dog with interactive toys or puzzles can also help to redirect their energy and focus away from digging.
Implementing proper exercise routines will also contribute to tiring your dog out, so they are less likely to dig holes in the yard. Engage in daily walks, play fetch, or introduce agility exercises to provide a healthy outlet for your dog's energy. By doing so, you'll decrease the likelihood that they will feel the need to dig as an activity or to hide their extra food.
Remember to reinforce positive behavior and respond calmly to your dog when they're digging. If you find your dog digging in the yard, redirect their attention to a more appropriate activity, such as playing with a toy or engaging in an obedience command. Avoid punishing your dog, as this can lead to further digging out of stress or anxiety. With patience, preventive steps, and a friendly approach, you can work towards minimizing your dog's digging habits related to hiding extra food.
Dogs Who Have Learned To Dig
Dogs dig for various reasons, and it's essential to identify the cause of the behavior to address it effectively. Some dogs dig due to their genetic predisposition, while others may dig out of boredom or to escape.
One of the primary reasons for a dog to dig is lack of mental enrichment. A dog left alone without toys, games, or challenges may resort to digging to alleviate boredom. Providing engaging activities and a stimulating environment can reduce the chances of excessive digging.
Another common motivator for digging is escape. If a dog digs around fences or gates, it's essential to discourage this behavior by reinforcing the area and supervising the pet when outside.
To deter your dog from digging, try the following tips:
Offer ample mental stimulation with toys, games, and puzzles
Provide regular exercise and bonding activities
Ensure your dog has a comfortable and secure outdoor space
Consider using scents that your dog may find unpleasant in digging-prone areas
Remember, addressing digging behaviors requires patience and consistency. With a friendly and understanding approach, you can help your dog find alternative ways to spend their energy and put an end to digging problems in your yard.
Is Your Dog Digging To Solve A Problem?
Sometimes dogs dig for reasons other than pure enjoyment or curiosity. In certain cases, they may be attempting to solve a problem. For example, digging can be a coping mechanism for dogs experiencing stress or anxiety. When a dog is exposed to an overwhelming situation, digging can offer a sense of relief and help them manage their emotions.
In addition to emotional stress, dogs may also dig to find relief from physical discomfort. On hot days, dogs might dig to create a cool spot on the ground to lay in and escape the heat. Similarly, they might dig to find a more comfortable surface if the terrain they are on is too hard or uncomfortable for them.
Another possible reason for problem-solving digging is to catch prey. Some breeds, like terriers, have a natural instinct to hunt burrowing animals. If your dog is digging with a specific focus on a single area, it could be trying to capture insects or small animals in the soil.
Lastly, dogs might dig to escape from an enclosed space. If a dog feels trapped or wants to explore the other side of a fence, digging can be a way for them to create a path out of their confinement. This behavior could potentially lead to safety hazards or loss of property, so it's essential to address these issues promptly.
To address problem-solving digging, consider evaluating your dog's environment and emotional state. Make adjustments where necessary to alleviate any stress, anxiety, or discomfort they might be experiencing. For dogs that dig to hunt, provide alternative ways for them to satisfy their instinctual needs. If your dog is digging to escape, ensure their environment is secure and engaging to prevent this behavior. Remember to use positive reinforcement when redirecting your dog to appropriate activities instead of digging.
Get Pippa's Training Tips!
Pippa, an experienced dog trainer, has some great tips on stopping your dog from digging. Here are some of her friendly and easy-to-understand suggestions:
Supervise your dog outside: Keep a close eye on your dog whenever they're outside to prevent them from digging. If you notice any digging behavior, redirect their attention to a more appropriate activity like playing with a toy or practicing obedience commands.
Create a designated digging area: Sometimes, dogs just need a place to satisfy their digging instincts. Designate a special spot in your yard for digging, and encourage your dog to use it by burying treats or toys to make it more appealing.
Provide mental and physical stimulation: Dogs are more likely to dig when they're bored. Engage in daily walks, playtime, and training sessions to keep your furry friend entertained and help curb any unwanted digging habits.
Use positive reinforcement: Instead of punishing your dog for digging, remember to reward them when they display good behavior. It could be as simple as a treat or verbal praise when they choose to play with their toys instead of digging.
Address any underlying problems: If your dog is digging to cool down, consider investing in a cooling vest or mat. If they're digging to escape the yard, secure underground exit paths and ensure the fence is sturdy.
By implementing these tips from Pippa and being patient and consistent in your efforts, you can help your dog overcome their digging habit.
Energetic Dogs Dig More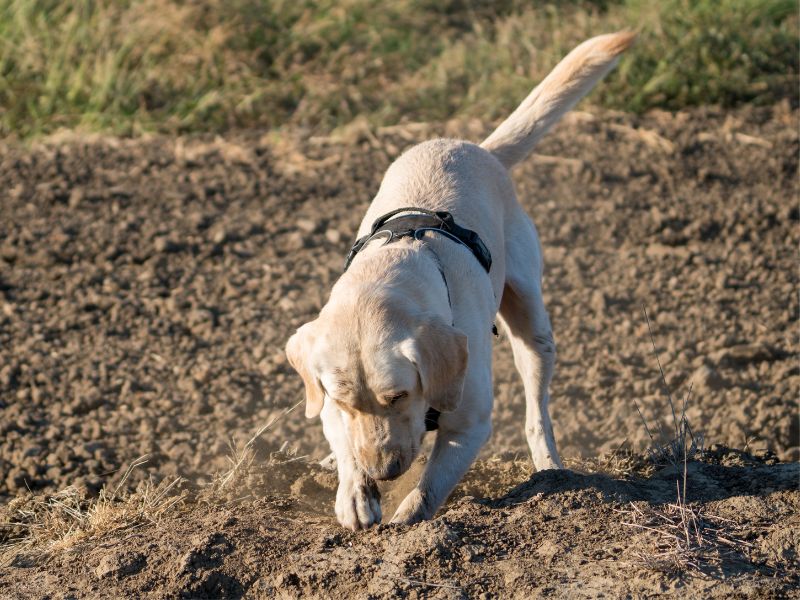 Dogs, especially those with high energy levels, are more prone to digging. This behavior can be linked to their need for physical and mental stimulation. Digging provides an outlet for dogs to burn off energy and keep themselves occupied. Energetic dogs are more likely to indulge in digging in an attempt to entertain themselves when they are bored, tired, or restless.
One way to help alleviate this issue is to ensure that your dog gets plenty of exercise and mental stimulation throughout the day. Activities such as walks, runs, or play sessions can help tire them out, reducing the likelihood of digging. Additionally, providing mental challenges, such as puzzle toys or interactive games, will keep their mind occupied and prevent them from seeking alternative means of entertainment.
Another approach to managing this digging behavior is by creating a dedicated area where your dog is allowed to dig. Designate a specific area in your yard, such as a sandbox, where they can safely satisfy their urge to dig without causing any damage to your garden or lawn. Reward your dog with treats and praise when they dig in this designated area, reinforcing their understanding that it is an acceptable place for digging.
Lastly, remember to use positive reinforcement when training your dog to stop digging. Punishment is not an effective method to address digging behaviors and can even lead to anxiety and other unwanted behaviors. Instead, provide praise, treats, and affection when your dog shows desirable behaviors, ensuring that they understand the correct actions that are expected of them.
In summary, addressing the digging behavior in energetic dogs involves providing enough physical and mental stimulation, designating an appropriate area for them to dig, and consistently using positive reinforcement during training.
Dogs Digging To Escape
Dogs may dig in an attempt to escape from their confined space, such as a fenced yard. This behavior can be concerning for pet owners, as it may lead to potentially dangerous situations for their dog. Understanding the root cause of this behavior is essential in creating an effective strategy to stop a dog from digging to escape.
One possible reason for a dog digging to escape is boredom or a lack of sufficient mental and physical stimulation. Dogs need regular exercise and mental challenges to stay happy and healthy. To combat this issue, try implementing a daily exercise routine for your dog, such as walks or playing fetch, or using puzzle toys to engage their problem-solving skills.
Another cause of escape digging is the dog's natural instinct to explore and protect their territory. In these cases, it may be helpful to create a more secure outdoor environment that meets the dog's need for stimulation and exploration while still keeping them safely contained. Adding some dog-friendly landscaping features, such as sandboxes for digging or agility equipment for play, can help prevent escape attempts.
Additionally, some dogs may dig to escape due to anxiety or fear. This can be a result of loud noises, such as fireworks or thunderstorms, or the presence of other animals in the vicinity. To address this issue, consider using positive reinforcement or desensitization techniques to help your dog feel more comfortable and secure in their environment.
Finally, reinforcing the physical boundaries of your dog's enclosure is crucial to prevent digging to escape. This may involve burying the fencing at least 18 to 24 inches deep or attaching a barrier to the bottom of your fence and extending it at least 12 inches into your yard. By taking these measures, you can create a space that is both safe and satisfying for your dog, reducing the likelihood of escape digging.
How To Keep Dogs From Digging Under Fence Boundaries
Dogs can dig under fences for various reasons, such as curiosity, prey drive, or even guarding their territory. To keep dogs from digging under the fence boundaries, consider implementing a combination of measures.
First, one can reinforce the fence by burying the lower part of the fence deeper into the ground. This decreases the chances of the dog digging beneath the barrier. Additionally, installing a solid barrier, like a sheet of metal or wire mesh, at the base of the fence will also discourage digging.
It is also essential to provide adequate mental and physical stimulation for the dog. This can be achieved by offering interactive toys, puzzles, or engaging in regular walks and playtime, which helps meet their exercise needs.
Another effective method to deter digging is by using creative landscaping features. Placing rocks or large stones along the fence boundary can help dissuade dogs from attempting to dig under the fence. Alternatively, one might consider installing raised garden beds or planting thick shrubbery along the fence line to discourage digging.
Lastly, positive reinforcement training techniques, such as rewarding the dog for not digging and redirecting their attention to appropriate activities, can be useful in managing this behavior.
By employing these strategies, one can significantly reduce the chances of their dog digging under the fence boundaries.
How To Stop A Dog From Digging
Dogs often dig in yards for various reasons, such as hunting prey, escaping, or simply out of boredom. To effectively stop a dog from digging, it's essential to identify the underlying cause of the behavior. Here are some friendly suggestions to help you curb your dog's digging habits:
First, diagnose the problem by closely observing your dog's digging patterns. If the digging is focused on one area, such as the roots of trees or shrubs, your dog may be after burrowing animals or insects. In this case, consider using non-toxic repellants or barriers to make the area less attractive to your dog.
If your dog is digging along the boundaries of the yard, it may be attempting to escape. To prevent this, ensure that your fences are secure and adequately high. To deter the digging along the fence line, consider placing chicken wire, lava rocks, or plastic sheeting over rocks in the area where your dog frequently digs.
Boredom can also lead to digging, so it's essential to keep your furry friend mentally stimulated and physically active. Provide ample exercise, toys, and interactive playtime to keep your dog busy. Regularly schedule walks and play sessions to keep your pooch entertained and engaged.
Cooling vests and mats can also help regulate your dog's temperature, as some dogs dig to create cool spots to lie in during hot weather. By offering your dog a comfortable, cool space to rest, you can discourage digging caused by heat.
When it comes to training your dog not to dig, avoid punishment, and focus on positive reinforcement. Reward your dog for good behavior and redirect its energy to an appropriate activity when you catch it digging.
Finally, consider creating a designated digging area, such as a sandbox, where your dog can dig without causing damage to your yard. Train your dog to dig in this dedicated space by burying treats and toys, reinforcing the idea that digging is only permitted in this area.
By understanding your dog's digging behavior and employing these friendly strategies, you can effectively curb and manage your dog's digging habits, preserving both your yard and your relationship with your furry companion.