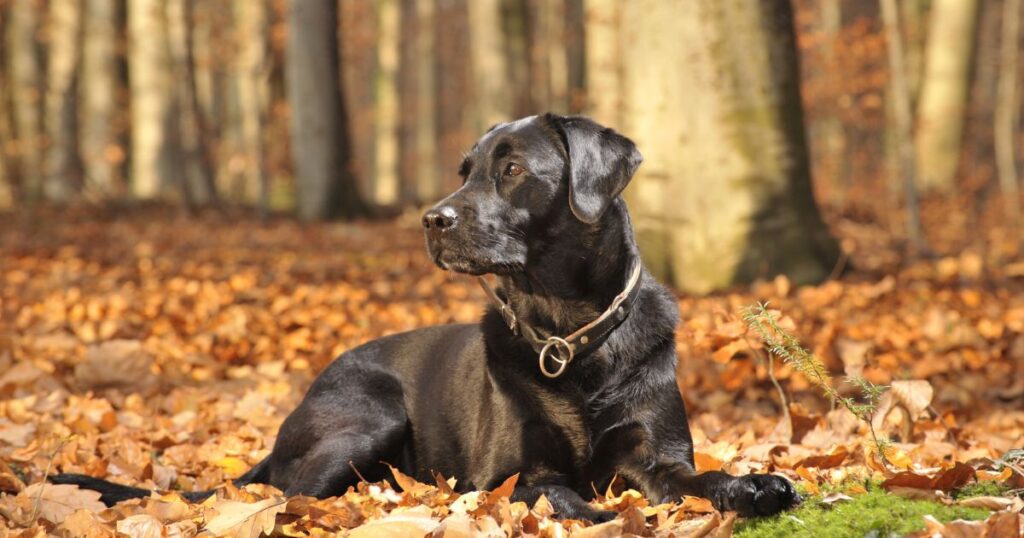 Feeding a Labrador may seem like a simple task, but selecting the right food and portion sizes for this popular breed is essential for maintaining their optimum health and well-being. The best food for Labradors varies depending on factors such as age, activity level, and individual dietary needs. With a multitude of options in the market, selecting the appropriate diet can be a daunting process for pet owners.
When it comes to feeding Labrador puppies, it's crucial to take into account their rapid growth period, providing them with well-balanced nutrition that caters to their developmental needs. Various types of puppy food, from kibble to raw diets and homemade meals, offer different benefits, and choosing the ideal feeding schedule is equally important.
As Labradors transition into adulthood, their dietary requirements and feeding schedules change. Factors such as age, physical activity, and overall health play a significant role in determining the optimal amount of food for your Lab. By understanding the specific nutritional and feeding needs of a Labrador, pet owners can ensure they are providing the best possible care for their beloved canines.
Labrador Feeding Guide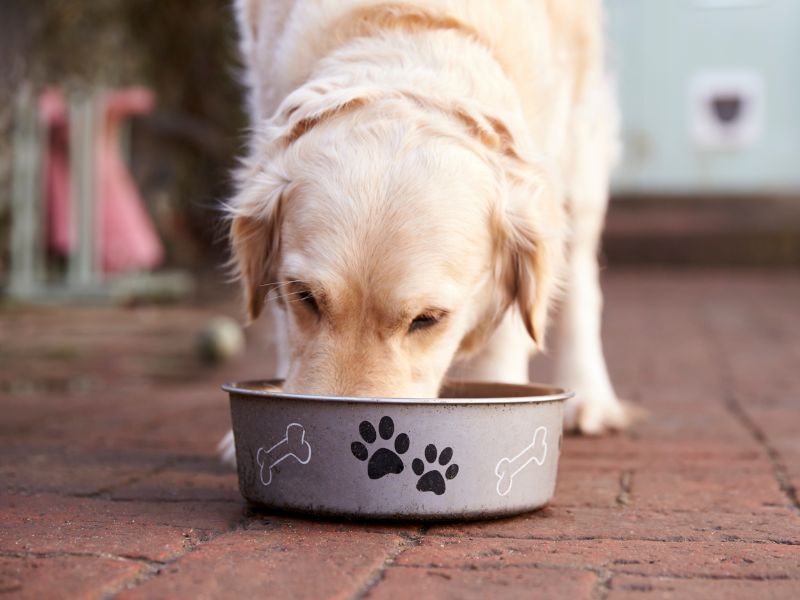 Feeding a Labrador might seem simple, but it's essential to choose the right type of food to ensure optimal health and development. The best Labrador food is high in fat and protein, and low in carbohydrates. Different Labradors may have unique nutritional needs, so selecting the right food depends on your dog's specific requirements.
Labrador puppies have specific dietary needs during their growth and development stages. It's important to choose food that meets these requirements for a happy and healthy pup. Puppies can be fed a variety of options such as kibble, raw food, wet canned meals, or homemade diets, each having its own set of benefits. Remember to consult with your vet before deciding on a diet plan for your puppy.
The frequency and amount of food to feed a Labrador puppy varies with age. Puppies under 3 months should be fed around 3-4 times daily, while those between 3-6 months may need 3-5 meals per day, combining both dry and wet food. Beyond 6 months, it's recommended to feed your Labrador twice a day.
Here's a simple feeding guide for an average Labrador puppy:
| Age | Meals per day |
| --- | --- |
| Under 3 months | 3-4 |
| 3-6 months | 3-5 |
| Over 6 months | 2 |
For adult Labradors, protein content is vital. The Association of American Feed Control Officials recommends a minimum protein content of 18% for adult dogs and 22.5% for puppies. Choose a product with at least 20% protein, unless your veterinarian has advised a low-protein diet for specific reasons.
When planning your Labrador's meals, also consider their activity level and any health issues. Consult your veterinarian for personalized feeding recommendations, ensuring you provide your Labrador with a balanced and nutritious diet for them to thrive.
What's the Best Dog Food for Labs?
Labradors are a popular and beloved breed known for their intelligence, loyalty, and boundless energy. When it comes to feeding your Labrador, there are many factors to consider, such as age, activity level, and dietary sensitivities. Thankfully, there are numerous high-quality dog food options available that cater to the specific needs of this breed.
There's Lots to Choose From
One of the top choices for Labrador puppies is Blue Buffalo Life Protection Formula Large Breed Puppy Chicken & Brown Rice Recipe Dry Food. This food is specifically formulated to meet the nutritional needs of growing large breed puppies, such as Labradors.
For adult Labradors with sensitive stomachs, Nutro Limited Ingredient Diet Grain-Free Adult Large Breed Lamb & Sweet Potato Recipe is a fantastic option. This food is grain-free and made with limited ingredients to help minimize digestive issues and support overall health.
Other highly recommended dog foods for Labradors include:
Holistic Select Large Breed Grain-Free Dry Food: This natural and grain-free recipe promotes optimum health for large breed dogs, focusing on digestive support and proper nutrient balance.
Nature's Recipe Healthy Skin Dry Dog Food: Formulated to maintain your dog's skin and fur, this food is a great choice for Labradors prone to skin and coat issues.
Wellness Simple Natural Limited Ingredient Dry Dog Food Lamb & Oatmeal: This limited ingredient diet is ideal for Labradors with food sensitivities or allergies, as it contains fewer ingredients and focuses on high-quality nutrition.
Orijen 6 Fish Grain-Free Formula Dry Dog Food: This premium dog food is packed with a variety of fish proteins and fresh ingredients, providing a balanced and nutrient-dense diet for your Labrador.
Remember, when choosing the best dog food for your Labrador, it's essential to consider their age, activity level, and any specific dietary needs they may have. Consult with your veterinarian if you're unsure about the most suitable food for your Labrador, and always monitor their health and well-being when making changes to their diet.
How to Feed a Labrador – Different Methods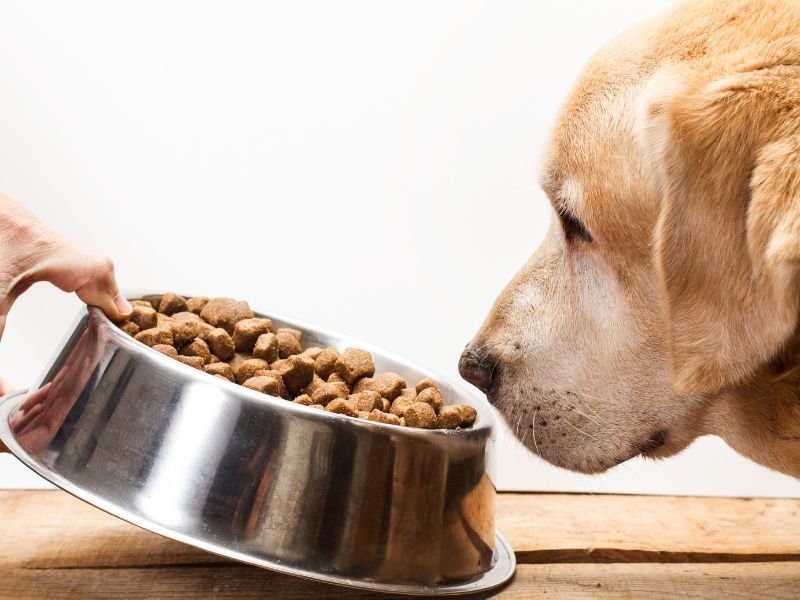 Feeding a Labrador can be more complex than you may initially think, as they require a balanced diet that is high in fat and protein, and low in carbohydrates. In this section, you'll learn about the different methods available for feeding your Labrador.
One popular method to feed a Labrador is by using kibble. Kibble is a dry, pellet-like dog food that can be found at pet stores and online. It's an appealing option for many Labrador owners, as it's quick, convenient, and can easily be taken wherever your dog goes. When opting for kibble, make sure to choose a brand that contains the necessary nutrients to keep your Labrador healthy.
Another option for feeding your Labrador is through a cooked food diet. This involves preparing meals for your dog using human-grade ingredients, such as meats, vegetables, and grains. A cooked food diet can provide balanced nutrition for your dog, but it's essential to research the right food combinations and portion sizes to meet their dietary needs.
Some Labrador owners prefer to feed their dogs a raw food diet. This method, known as the "BARF" diet (biologically appropriate raw food), mainly consists of raw meat, bones, and organs. Advocates of this approach believe it's more natural for a dog's digestive system. However, it's essential to be knowledgeable about the potential risks and the proper balance of nutrients when choosing this method.
When it comes to feeding frequency, a Labrador puppy will need to eat 4 to 6 times per day, as their small stomachs can't handle large meals. As your Labrador grows, the number of meals will decrease, eventually settling on 2 to 3 meals a day for an adult dog.
Remember that each Labrador is unique, and their specific nutritional requirements will vary based on factors such as age, activity level, and overall health. Always consult with a veterinarian before making significant changes to your Labrador's diet.
What About BARF?
Feeding your Labrador a BARF (Biologically Appropriate Raw Food) diet is an option to consider that focuses on their carnivorous nature. The BARF diet consists of fresh, uncooked meat, bones, fruits, vegetables, and sometimes herbs, dairy, whole grains, minerals, and supplements. In this approach, a balanced meal according to the BARF model and The Association of American Feed Control Officials (AAFCO) guidelines is important. The recommended guidelines for a BARF diet consist of:
70% uncooked muscle meat
10% raw edible bone
10% vegetables and fruit
5% liver
5% other organs
When preparing a BARF diet for your Labrador, it's essential to remember their specific nutritional requirements. They need a diet high in fat and protein, and low in carbohydrates. This helps to ensure proper growth, maintenance of a healthy weight, and overall well-being.
Feed your Labrador a variety of raw meats, such as chicken, beef, and lamb. Adding in the occasional fish or game meats can provide additional nutrients and keep their meals interesting. Remember to include raw, edible bones for their calcium and phosphorous content, which supports healthy teeth and bones. Fruits and vegetables also provide essential vitamins and minerals, so add in some leafy greens, carrots, or berries to their meals. Lastly, include organ meats, like liver and kidney, as these are nutrient-dense and provide essential vitamins, such as vitamin A.
It's important to monitor your Labrador's overall health and weight while on a BARF diet, as adjustments may be needed. Remember, every dog is unique, and their specific needs may vary from the general guidelines. Always consult with your veterinarian before making any significant changes to your Labrador's diet and follow their recommendations.
Labrador Dog Food Choices – Dry Kibble
When it comes to feeding your Labrador, one popular option is dry kibble. This type of dog food has some benefits that make it a good choice for busy pet owners.
Dry kibble is convenient to store and easy to measure out, which helps ensure that your Labrador gets the right amount of food each day. It also has a longer shelf-life compared to wet and fresh foods, making it a cost-effective option for many pet owners.
When selecting the best dry kibble for your Labrador, it's important to look for a high-quality option that is high in protein and fat, and low in carbohydrates. Some top-rated dry food options for Labradors include Royal Canin Breed Labrador Retriever Puppy Dry Dog Food, Canidae All Life Stages Premium Dry Dog Food, and Acana High Protein Puppy Dry Dog Food.
When feeding your Labrador kibble, consider the following tips:
Keep a feeding schedule: Consistently feed your Labrador at the same times each day to establish a routine.
Measure portions correctly: Don't estimate how much food to give. Use a measuring cup or scale to ensure accuracy.
Monitor weight and adjust accordingly: If your Labrador is under or overweight, adjust the amount of food you feed them as needed.
As a pet owner, it's essential to remember that while dry kibble can be a suitable option for many Labradors, every dog is different. It may take some experimentation to find the perfect food tailored to your Labrador's specific needs.
Is Kibble Good for Dogs?
The Convenience of Kibble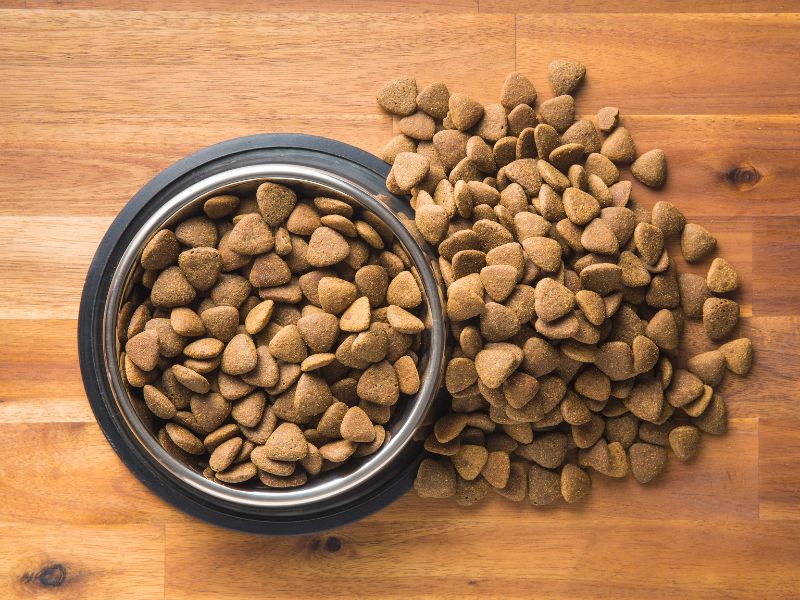 Kibble, or dry dog food, is a popular choice for many dog owners due to its convenience. Not only is it easy to serve, but it also requires no refrigeration. Serving the appropriate amount of kibble to a dog is simple, and it allows pet owners to ensure their dog is getting a consistent diet.
However, not all kibble is created equal. Some types might not be the best option for your Labrador. It's essential to choose a kibble that is high in fat and protein, and low in carbohydrates, as this matches a Labrador's dietary needs.
Storage
One of the benefits of kibble is its ease of storage. Dry dog food can be stored in a cool, dry place like a pantry or cupboard, as long as it's kept in an airtight container. This helps to preserve its freshness and prevent any contamination.
When selecting a kibble for your Labrador, it's essential to check the expiry date and ensure that it stays fresh and nutritious. Remember, although it may be more convenient to buy kibble in bulk, it's crucial to keep the food as fresh as possible, which may require purchasing smaller batches more frequently.
To summarize, kibble can be a practical and convenient option for feeding your Labrador. However, it's crucial to choose a high-quality kibble that meets your dog's nutritional needs and to store it properly to maintain its freshness.
The Disadvantages of Kibble
Feeding your Labrador kibble may be a popular choice due to its convenience and ease of storage. However, it comes with various disadvantages that should be considered before making a decision.
Firstly, kibble-fed dogs may produce extremely unpleasant odors in their waste. The composition of kibble can lead to unappealing smells, which may be especially noticeable when compared to dogs who are fed a raw diet.
Another concern with kibble is the potential need for regular teeth cleaning. Dogs fed solely on dry food may be more prone to developing dental issues, as the lack of moisture and scraping action that wet or raw food provides can allow plaque and tartar to build up over time.
Kibble may also be lacking in essential nutrients that a Labrador needs for optimal health. Many commercial kibble options are high in carbohydrates, which are not ideal for a Labrador's dietary requirements. Our canine companions tend to thrive on a diet rich in protein and fat, with minimal carbohydrates. While there are high-quality, grain-free kibble options available, finding the right one for your Labrador can be a time-consuming and potentially expensive process.
Finally, the appeal of kibble's taste and texture might not be suitable for all Labradors. Some dogs might simply refuse to eat kibble, or develop allergies to specific ingredients in the dry food. In such cases, alternative feeding options, like raw or homemade diets, might be more appropriate for ensuring a happy, healthy dog.
Should I Feed My Dog Raw Meat?
Feeding a raw meat diet, also known as a Biologically Appropriate Raw Food (BARF) diet or raw feeding, has gained popularity among Labrador owners. Proponents of raw feeding argue that dogs, as descendants of wolves, are designed by nature to eat raw meat and organs of their prey.
A raw meat diet for Labradors may include high-quality animal-based protein sources like beef, chicken, turkey, lamb, duck, eggs, and fish. Some potential benefits of feeding raw meat to Labradors include improved digestion, healthier skin and coat, reduced risk of joint issues, and increased energy levels.
However, there are potential risks associated with feeding raw meat as well, such as exposure to harmful bacteria that could cause foodborne illnesses. Moreover, feeding an unbalanced raw diet may lead to nutritional deficiencies or imbalances. It is essential to ensure that a raw meat diet is safe, balanced, and nutritionally appropriate for your Labrador.
If you decide to try a raw meat diet for your dog, be sure to transition gradually and under the guidance of a veterinarian or canine nutritionist. This inclusion of raw meat in appropriate proportions to their diet ensures your Labrador gets accustomed to it.
Remember, it is crucial to weigh the pros and cons of feeding raw meat to your Labrador and consult with a professional before making any significant changes to their diet. Have a friendly conversation with your vet about the best options for your dog's health and wellbeing.
The Pros and Cons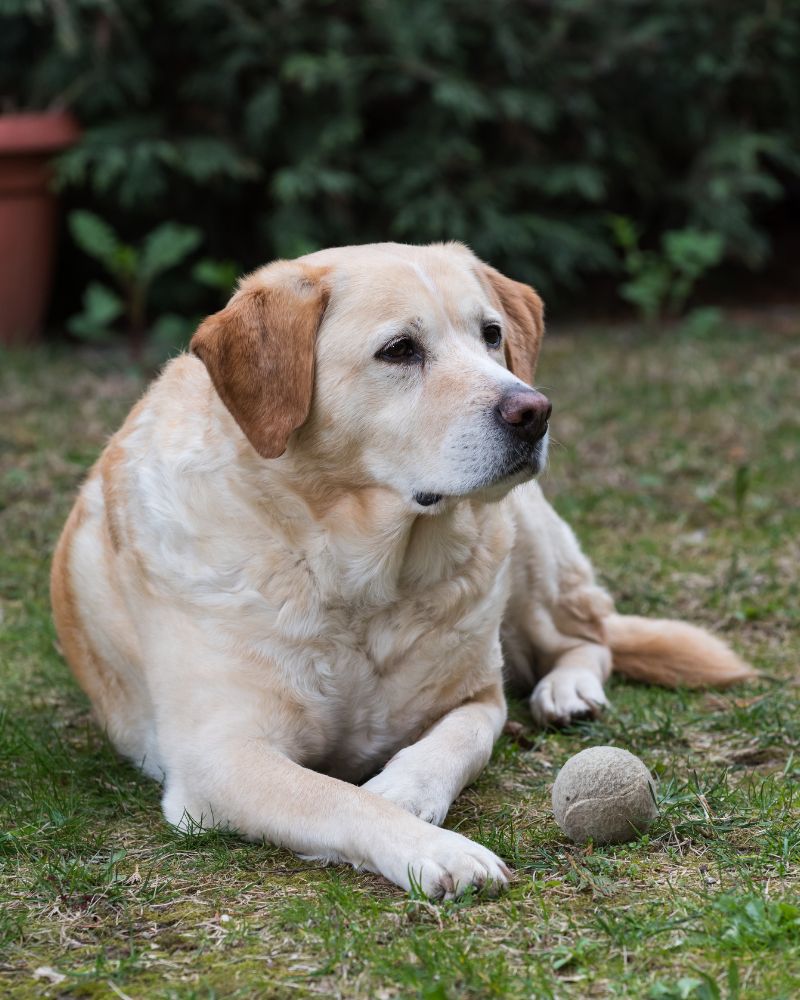 When considering how to feed a Labrador, it's important to weigh the pros and cons of different feeding methods. In this section, we will discuss the pros and cons of raw fed diets and the implications of having small children around Labradors during mealtime.
Raw Fed Dogs
Pros:
Better coat quality: Raw fed Labradors often have shinier and healthier coats, as the diet is high in natural oils and fats.
Improved digestion: Raw feeding can be easier on a dog's digestive system, as it closely mirrors their ancestral diet.
Less odor: A raw fed dog generally produces less waste and less odor due to the high digestibility of the raw diet.
Cons:
Time-consuming: Preparing a raw diet can be quite time-consuming and requires careful planning.
Risk of bacterial contamination: Raw food can be contaminated with harmful bacteria such as Salmonella or E. coli, which can cause illness in dogs and humans handling the food.
Nutritional balance: Achieving the right balance of nutrients in a raw diet can be challenging, and an improperly balanced diet can lead to health problems.
Small Children
Pros:
Socialization: Allowing small children to be present while a Labrador is eating can be a valuable lesson in pet ownership and can help develop a positive relationship between the child and the dog.
Bonding: Sharing mealtimes can create a sense of bonding between a child and a pet.
Cons:
Potential for accidents: Small children can inadvertently interfere with a dog's meal, leading to the dog becoming protective or aggressive over their food.
Exposure to bacteria: As mentioned earlier, raw diets can carry risks of bacterial contamination, which can be a concern when small children are present during mealtime.
Choking hazards: Some raw food items, such as bones, can pose choking hazards for both dogs and children if not properly supervised.
When feeding a Labrador, it's important to consider both the pros and cons of the chosen diet and feeding environment. Don't forget that it's essential to always supervise mealtime and educate children on how to safely interact with dogs during feeding.
Choosing the Right Method of Feeding
Choosing How to Feed a Labrador
Feeding a Labrador may not be as straightforward as you might think. The best Labrador food won't be the same for every dog in the breed. However, high-fat and high-protein foods, with low carbohydrates, are generally recommended for Labradors.
When feeding a Labrador Retriever, there are a few factors to consider:
Age: Puppies should be fed puppy food until they are 12-15 months old before transitioning to adult dog food. Remember to introduce the new food gradually over seven to ten days.
Activity level: Active Labs may require more food than less active ones. Adjust the food quantity accordingly to maintain a healthy weight.
Food type: Raw food is considered the best dog food for Labradors, as it can provide natural, whole nutrients that help prevent health issues such as obesity, joint problems, and allergies.
There are numerous feeding methods to try depending on your Lab's individual needs. Let's look at how much to feed a Labrador based on age.
| Age | Feeding Frequency | Amount |
| --- | --- | --- |
| 8 weeks | 4 times daily | Age-appropriate |
| Adult | 1-6 cups | Varies |
At eight weeks old, Labrador puppies should be fed four times a day since they have smaller stomachs and high energy levels. Adult Labs can be fed a minimum of one to a maximum of six cups of dog food, depending on their age and activity level.
When feeding your Labrador, provide them with a quiet, distraction-free area to consume their meals. Having a consistent feeding routine will help maintain a healthy eating habit for your Labrador Retriever.
Get Pippa's Training Tips!
Pippa Mattinson, a best-selling author and Labrador specialist, has over thirty years of experience in breeding, training, and working with Labrador Retrievers. She offers valuable insights and tips for feeding and training your Labrador that you won't want to miss.
One key tip from Pippa is that a Labrador's diet should be high in fat and protein, and low in carbohydrates. This helps keep your Lab in optimal health and maintains their energy levels. It is essential to be aware that the best Labrador food might not be the same for every dog in the breed. So, always consider your Labrador's unique needs when choosing food.
For training purposes, Pippa emphasizes making the training sessions fun and engaging. Since Labradors are often energetic and strong, providing exciting activities and treats during training can make it more enjoyable for both you and your dog. Regularity and consistency in training sessions are essential to achieve desired results.
Apart from general training advice, Pippa offers a plethora of resources on recall training. Getting your Labrador to come back when called is a crucial skill, and Pippa provides various techniques and tips to help you master recall training with your dog.
To better assist Labrador owners, Pippa frequently shares her expertise through:
Detailed and in-depth training guides
Email subscriptions with regular tips
Online resources on Labrador topics
Practical training advice
To get Pippa's helpful training tips and resources, explore her articles on The Labrador Site and sign up for her email tips. With guidance from an experienced and knowledgeable Labrador specialist like Pippa Mattinson, you can ensure your Labrador enjoys a well-rounded diet and effective training to lead a happy and healthy life.
Choosing a Brand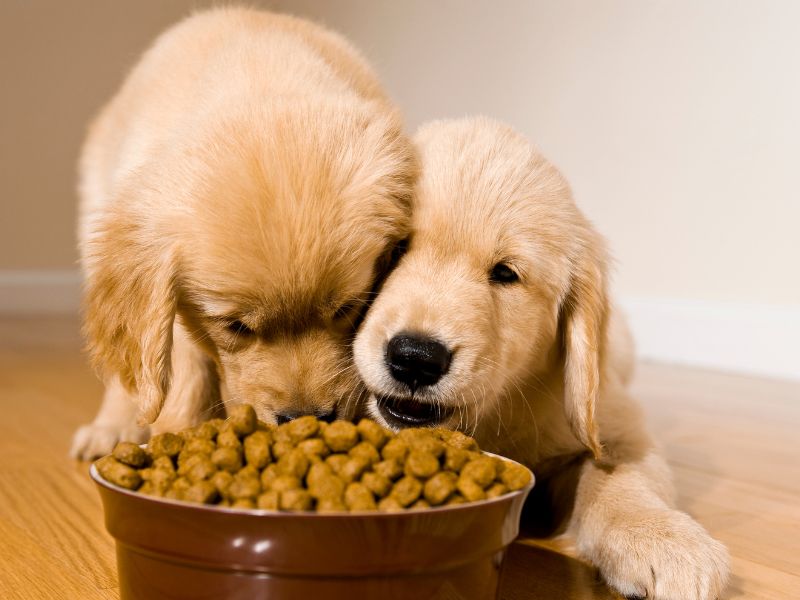 When it comes to feeding your Labrador, selecting the right brand of dog food is essential. This is because different brands offer varying levels of nutrition, quality, and ingredients to suit your dog's unique needs. In this section, we'll explore the concept of biologically appropriate kibble and what to look for when choosing a brand.
Biologically Appropriate Kibble?
Biologically appropriate kibble refers to dog food that is formulated to resemble the natural diet of a dog's wild ancestors. This typically includes a higher protein content from quality meat sources, limited carbohydrates, and various fruits, vegetables, and other essential nutrients.
When exploring various dog food brands, consider the following factors to ensure you're selecting one that provides a healthy and balanced diet:
Ingredient Quality: Look for brands that use high-quality, natural ingredients from reliable sources. Avoid those that excessively rely on low-quality fillers and artificial additives.
Protein Content: As Labradors are a larger breed with high energy levels, an ideal dog food should have a significant protein content. Choose brands that list real meat or quality animal protein as their primary ingredient.
Grains and Carbohydrates: While some grains can be beneficial to your Labrador's overall health, opt for dog food brands that focus on quality sources of carbohydrates, such as brown rice or sweet potatoes.
Vitamins and Minerals: Ensure the brand you select provides a well-rounded profile of essential vitamins and minerals. This includes, but is not limited to, calcium for strong bones, omega fatty acids for skin and coat health, and essential amino acids for overall well-being.
Remember, there is no one-size-fits-all solution when choosing the perfect dog food brand for your Labrador. Take your time, research thoroughly, and consider consulting with a veterinarian for personalized recommendations based on your dog's specific needs and dietary requirements.
How Often to Feed Your Labrador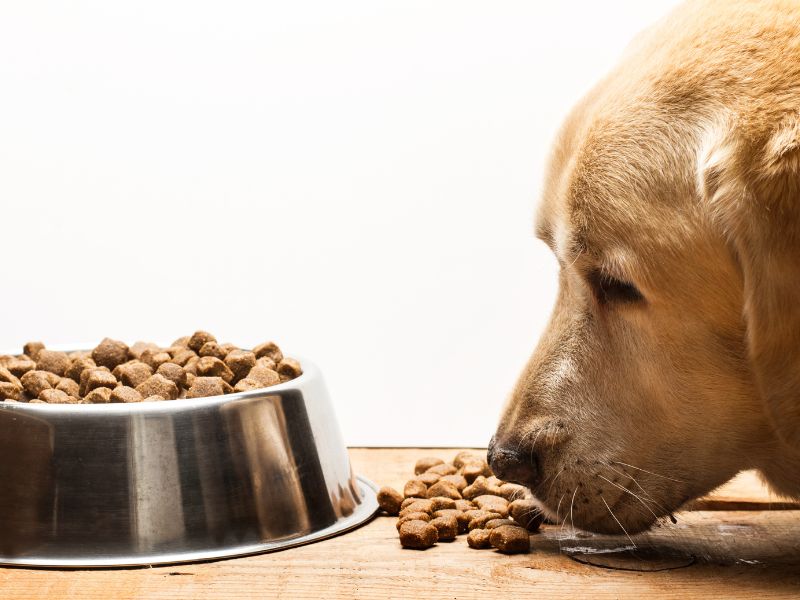 Feeding your Labrador the right amount of meals per day depends on their age. For puppies up to six months old, it is recommended to provide them with four meals a day. As they grow and reach the age of one year, the number of meals can be reduced to three.
For adult Labradors, feeding them two meals per day is typically sufficient. However, some dogs may prefer their daily portions broken down into smaller amounts spread out throughout the day if your routine allows.
Remember that the serving sizes will vary depending on the type of food you choose to serve your Labrador. For example, if you're feeding your Lab dry kibble, the amount will be different than if you're feeding them a raw or home-cooked diet.
It is essential to maintain a consistent feeding schedule for the long-term health of your Labrador. The more consistent you are in providing meals, the less likely your canine companion will experience digestive issues and other health concerns that can stem from irregular eating habits.
In summary:
Puppies up to 6 months: 4 meals per day
Puppies 7-12 months: 3 meals per day
Adult Labradors: 2 meals per day
By adhering to these guidelines, you can help ensure the health and well-being of your loyal Labrador companion throughout their life.
How Often to Feed Puppies
Feeding your Labrador puppy appropriately is essential for their growth and development. In the early months of their life, puppies require frequent meals to support their rapidly growing bodies.
Initially, it's recommended to feed your Lab puppy four times a day, evenly spread out over the daytime hours. This can be adjusted as they grow older. Between the ages of 3 to 6 months, feed your puppy 3 to 5 times daily, using a mix of dry and wet food. As your puppy reaches more than 6 months old, you can reduce the number of meals to 2 times each day.
Here's a recommended feeding schedule for a Labrador puppy:
Up to 6 months of age: 4 meals a day
6 months to 1 year: 3 meals a day
1 year and older: 2 meals a day
Remember, breed, age, size, and energy level all factor into how often to feed your puppy. Some adult dogs may prefer their daily rations to be broken down into smaller amounts and spread out more if your routine allows it.
Keep in mind that you should not only focus on the frequency of feeding but also on the quality of the food provided. Make sure to choose the best food for your Lab puppy to ensure proper nutrition and promote healthy growth throughout their development.
In conclusion, being attentive and adapting your Labrador puppy's feeding schedule as they grow will result in a happy, well-nourished, and energetic companion.
How Much to Feed a Labrador?
Feeding a Labrador can vary depending on their age, activity level, and individual needs. However, here are some general guidelines that can help you determine the appropriate amount of food for your Labrador.
Labrador puppies between 3-6 months old typically need to be fed 3-5 times daily with a mix of dry and wet food. As they grow older and reach more than 6 months old, it is recommended to reduce their feeding to 2 times a day.
A high-protein diet is essential for the health and development of Labradors. The Association of American Feed Control Officials suggests a minimum protein content of 18% for adult dogs and 22.5% for puppies. Aim for a product with at least 20% protein, unless your veterinarian advises otherwise.
Here's a simple Labrador feeding chart based on weight:
Under 20 lbs: Approximately 1-2 cups of food per day
20-40 lbs: Approximately 2-3 cups of food per day
40-60 lbs: Approximately 3-4 cups of food per day
60-80 lbs: Approximately 4-5 cups of food per day
Over 80 lbs: Approximately 5-6 cups of food per day
These are just general guidelines, and it's important to regularly monitor your Labrador's weight and adjust their food intake accordingly. If you're unsure about how much to feed your Labrador or if they're overweight, consult with your veterinarian for personalized advice.
Finally, be mindful of foods that should be avoided for Labradors. Some common examples include chocolate, grapes, raisins, onions, caffeine, and foods with high salt or fat content. Feeding your Labrador a well-balanced, nutritious diet is crucial for their health and well-being.
How Long Should a Dog Take to Eat His Dinner?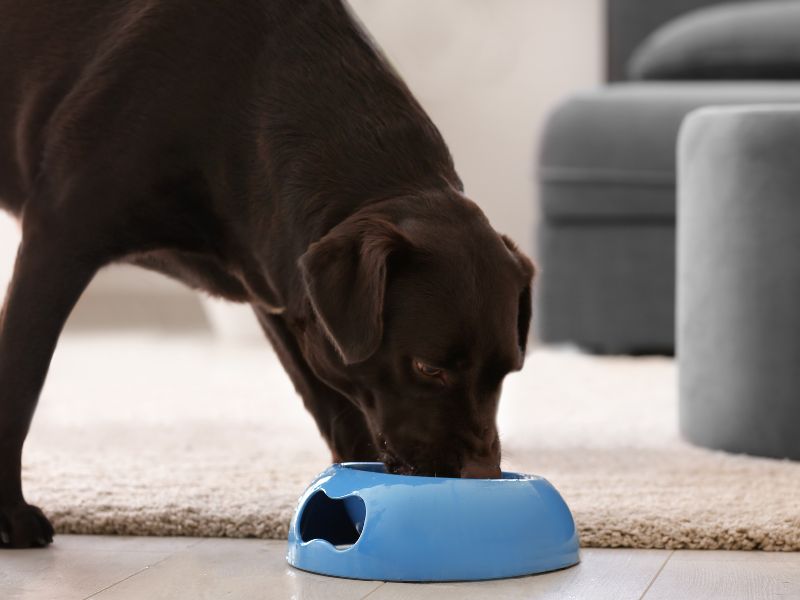 Feeding a Labrador properly is crucial for maintaining good health and energy levels. One aspect that often gets overlooked is the importance of how long it takes for a dog to eat his dinner.
How to Feed a Labrador Slowly
One key factor in determining how long a dog should take to eat dinner is the importance of feeding them slowly. Eating too fast can cause digestive issues, such as bloating and indigestion. A good meal pace for a labrador should be around 10-20 minutes per meal.
To help encourage a Labrador to eat slowly, there are a few tricks you can try:
Use a slow feeder bowl: These bowls have special designs like ridges or compartments that make it more challenging for dogs to gulp down their food, encouraging them to eat more slowly.
Spread the food out: Rather than piling it all in one spot, try spreading a Labrador's food out on a wide tray or even across the floor. This encourages the dog to take their time as they search for each bit of kibble.
Add some interactive toys: Mixing your Labrador's food with puzzle toys can provide mental stimulation and slow down their eating pace. They will need to solve the puzzle to access their food, making feeding time last longer.
Remember that each dog is different, and it's essential to monitor your Labrador's eating habits to ensure they are getting the right amount of food and eating at a healthy pace.
Feeding Household Scraps and Left Overs to Dogs
When it comes to feeding your Labrador, giving them household scraps and leftovers might seem like a convenient and cost-effective option. However, it's essential to understand which leftovers are safe for your pet and which should be avoided.
Plain yogurt is beneficial for dogs, as it helps replenish the bacterial flora of the gastrointestinal tract. Your canine companion will enjoy this nutritious treat. Similarly, cottage cheese is a good source of high-quality protein and calcium. It may not have the same bacterial cultures as yogurt, but most dogs love the taste.
It's worth noting that some table scraps can be harmful to dogs. Resist the urge to feed your Labrador just anything from your dinner plate. Instead, focus on providing them with a well-balanced diet that includes high-fat and high-protein foods, as well as a low carbohydrate content.
Dogs that consume a meat-based diet, including raw red meat, organs, fish, eggs, and bones, are 22% less likely to develop stomach issues. To enhance your Labrador's meals, you can safely incorporate vegetables like carrots, peas, and sweet potatoes, as well as small amounts of fruits like blueberries and apples.
When feeding your Labrador leftovers, moderation is key. Integrating some wholesome table scraps into their meals occasionally can provide them with essential nutrients and flavor variety. But remember, relying heavily on leftovers could lead to an imbalanced diet and long-term health problems.
In summary, it's essential to be informed about the dos and don'ts of feeding table scraps to your Labrador. Keep their well-being in mind and make sure to prioritize a balanced, species-appropriate diet to ensure their health and happiness.
Giving Leftovers to Puppies
Feeding leftovers to Labrador puppies can seem tempting as a way to provide them with a variety of tastes. However, it is important to be cautious when giving table scraps, especially during the early stages of their growth and development.
Labrador puppies need a proper diet that ensures they receive the right nutrients for growth and health. Giving them table scraps might not provide them with the balanced diet necessary for their development. Instead, a specially formulated puppy food is recommended to meet their nutritional needs.
For those who still want to give their pups some treats or leftovers, the 10% rule can be a helpful guideline. This rule states that food should account for 90% of the puppy's daily calorie intake, while treats should not exceed 10%. Though treats and table scraps can add some variety to a puppy's diet, it's essential to ensure they don't comprise a significant portion of their overall caloric intake.
When giving leftovers to a Labrador puppy, always avoid certain human foods that can be harmful or even toxic to dogs. These foods include chocolate, grapes, raisins, onions, garlic, artificial sweeteners, and anything seasoned with excessive spices or salt.
A friendly reminder: moderation is key when it comes to providing puppies with leftovers and treats. Introducing new foods slowly can help your puppy adapt to different flavors and textures while ensuring they maintain a well-rounded and balanced diet.
Dog Feeding Equipment and Storage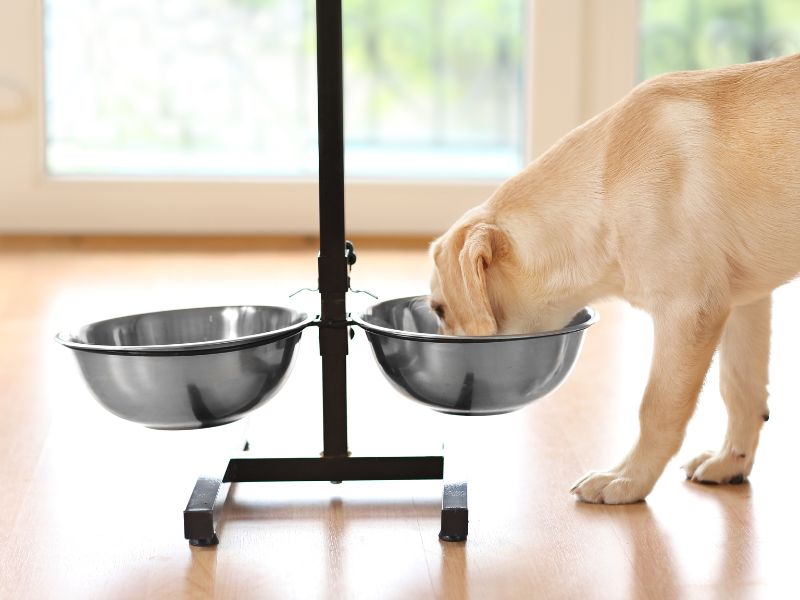 Feeding your Labrador properly requires the right equipment and storage solutions. Here are a few essential items to help make mealtime more enjoyable for both you and your pet.
Bowls: Choose sturdy, durable bowls for your Labrador's food and water. Stainless steel or ceramic options are ideal as they're easy to clean and resist tipping over. Avoid plastic, as it's less durable and can harbor bacteria.
Measuring cups: In order to feed your Labrador the correct portion sizes, invest in a set of measuring cups. This will help prevent overfeeding or underfeeding, which can lead to health issues.
Food storage containers: To maintain the freshness and quality of your Labrador's kibble or dry food, store it in airtight containers. This will help protect the food from moisture, insects, and rodents.
Mats or trays: Place a mat or tray under your Labrador's food and water bowls to catch spills and make cleaning easier.
When organizing your dog feeding equipment and storage, make sure it all has a dedicated space and is easily accessible. This will help make feeding time efficient and enjoyable for everyone involved. Additionally, remember to clean your Labrador's bowls, mats, and any utensils regularly to maintain a hygienic feeding environment.
Storing Dog Food
Storing your Labrador's food properly is important to ensure its freshness, taste, and nutritional value. Here are some friendly tips on how to store your pet's food and maintain its quality.
First, when storing dry kibble, it's best to keep it in its original bag, as manufacturers often line the bag with materials meant to preserve the food's freshness. However, you can also transfer the kibble to an airtight, food-grade container. Keep the container in a cool, dry, and dark place, like a pantry or a cupboard, to prevent spoilage and exposure to pests.
If you feed your Labrador canned or wet food, it's crucial to refrigerate any opened cans with a secure lid. This will prevent bacteria growth and ensure its freshness. Set your refrigerator to 40°F (4°C) or below, and always use the wet food within a week after opening it.
When it comes to raw or cooked food, proper storage becomes even more crucial. Raw food should be kept frozen until needed and then thawed in the refrigerator. Once thawed, serve the food within 24 hours. Cooked food should be refrigerated in an airtight container and consumed within 3-5 days. Remember to wash and dry your pet's food bowls, scooping utensils, and water bowls daily to maintain good hygiene and prevent contamination.
For pet treats, store them in an airtight container in a secure location. This will not only prevent your Labrador from attempting to access the treats by themselves, but it will also maintain their freshness and prevent pests from getting into them.
By following these friendly storage tips, you'll be better equipped to keep your Labrador's food fresh, healthy, and safe for consumption.
Feeding Labrador Puppies
Feeding Labrador puppies properly is crucial for their growth, development, and overall health. There are various types of food that you can provide for your Lab puppy, including kibble, canned wet meals, raw food, and homemade diets. Each type has its own benefits, and it's essential to choose the right one based on your puppy's needs and preferences.
When choosing the right food for your Labrador puppy, it's essential to pick one that is high in fat and protein, and low in carbohydrates. This will help ensure that your Lab gets the right nutrients for proper growth and development. Always consult your vet or breeder for recommendations on the best food for your puppy, as each dog may have its unique dietary needs.
It is essential to maintain a feeding schedule for your Labrador puppy. For 3-6 months old Lab puppies, it is recommended to feed them 3-5 times daily. You can provide a mix of dry and wet food to meet their nutritional needs. For puppies over 6 months old, feeding them two times a day is usually sufficient.
When feeding your Labrador puppy, remember to measure their portions carefully. Overfeeding can lead to obesity and other health issues later in life. To establish the correct portion size for your puppy, consult with your veterinarian or follow the guidelines provided by the food manufacturer.
Additionally, it's crucial to monitor your puppy's growth and adjust their food portions accordingly. If you notice your puppy gaining weight too quickly or becoming underweight, consult your vet for guidance on adjusting the portion size.
When bringing your new Labrador puppy home, it's best to stick to the same food and brand that the breeder has been feeding them. This can help prevent any stomach upset and promote a smooth transition to their new home. If you'd like to introduce new food types, do so gradually by mixing the old food with the new one, slowly increasing the proportion of the new food over a week or two.
Feeding a Labrador puppy may seem daunting, but with careful attention to their nutritional needs and proper portion sizes, your puppy will grow into a happy, healthy adult dog.
Giving Water to Your Labrador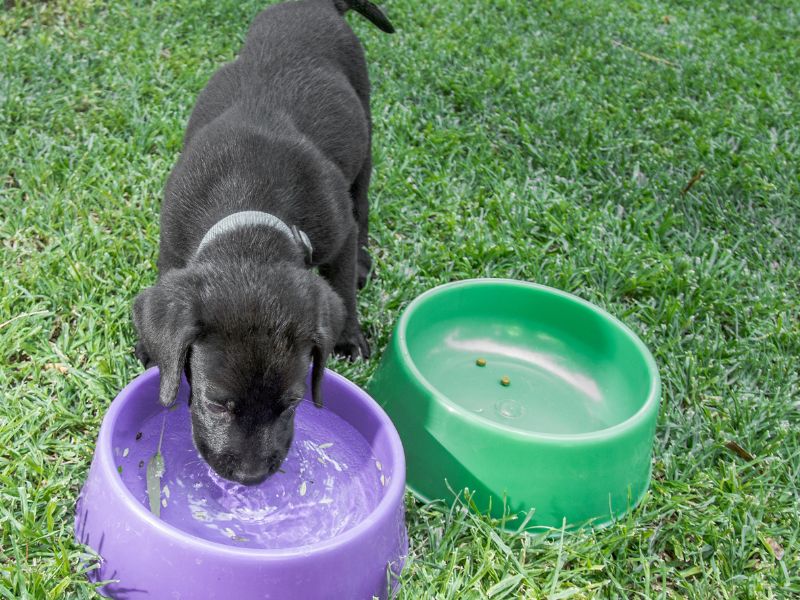 Ensuring that your Labrador has access to clean water is just as important as providing them with a balanced diet. The general guideline for a healthy dog is to drink between 0.5 to 1 ounce of water per day for each pound of body weight. For instance, a 70-pound Labrador should ideally drink between 35 and 70 ounces of water daily.
Factors that can influence the amount a Labrador drinks include their activity level, age, size, and the temperature of their environment. It's important to monitor their water intake, as too little water could lead to dehydration, while excessive drinking may indicate an underlying health issue.
To help your Labrador maintain optimal hydration, follow these friendly tips:
Provide clean water: Ensure your Labrador has access to fresh, clean water throughout the day. Regularly check and refill their water bowl, and clean it often to prevent bacteria and algae build-up.
Encourage hydration after exercise: After periods of activity or exercise, encourage your Labrador to drink some water. This will help replenish the fluids they have lost and prevent dehydration.
Be mindful of the environment: During hot weather, your Labrador might drink more water than usual to stay cool. Keep an eye on their water intake and make sure to replenish their water supply more frequently.
Monitor changes in drinking habits: Pay attention to any changes in your Labrador's drinking habits, such as drinking excessively or not drinking enough. If you notice any concerning patterns, consult with your veterinarian to rule out any possible health issues.
By providing your Labrador with fresh water and monitoring their hydration, you'll be supporting their overall health and wellness. Remember to always consult your veterinarian if you have any concerns about your Labrador's water intake.
When Feeding Problems Need Veterinary Help
Feeding a Labrador can sometimes lead to issues that require veterinary assistance. It's essential to be aware of these problems and know when it's time to seek help from a professional.
One common problem is overeating. Labradors have a reputation for being prone to obesity, which can lead to health issues like joint problems, heart disease, and diabetes. If a Labrador consistently eats more than the recommended amount, it's time to consult a vet to discuss proper feeding habits and potential dietary adjustments.
Another issue that may arise is the development of food allergies or sensitivities. Signs of this can include persistent itching, skin irritation, diarrhea, or vomiting. If a Labrador displays any of these symptoms, it's crucial to visit a veterinarian to determine the cause and find a suitable diet for managing their allergies or sensitivities.
In some cases, Labradors may experience difficulty chewing or swallowing their food. This can be due to underlying dental or gastrointestinal issues. When a Labrador consistently struggles to eat or shows signs of pain while eating, it's time to seek veterinary help to address underlying conditions.
Lastly, if a Labrador appears to be losing weight or losing interest in food, particularly if other symptoms like lethargy or weakness are present, this could indicate an underlying illness that needs to be addressed by a veterinarian. It's essential to promptly schedule a vet appointment if these signs are observed, as early intervention can lead to better outcomes.
In all of these situations, working with a veterinarian is crucial to ensure the health and wellbeing of your Labrador. Don't hesitate to reach out to a professional for guidance and assistance.