Alright, buckle up, folks! We're diving into a thrilling adventure through the realm of Golden Retriever growth numbers!
First things first, let's tackle those digits!
A healthy, hunky male golden retriever tips the scales at 65-80 lbs, but this majestic mass is only reached when they hit the ripe ol' age of two.
As for the fabulous females, they strut their stuff anywhere between 55 and 90 lbs.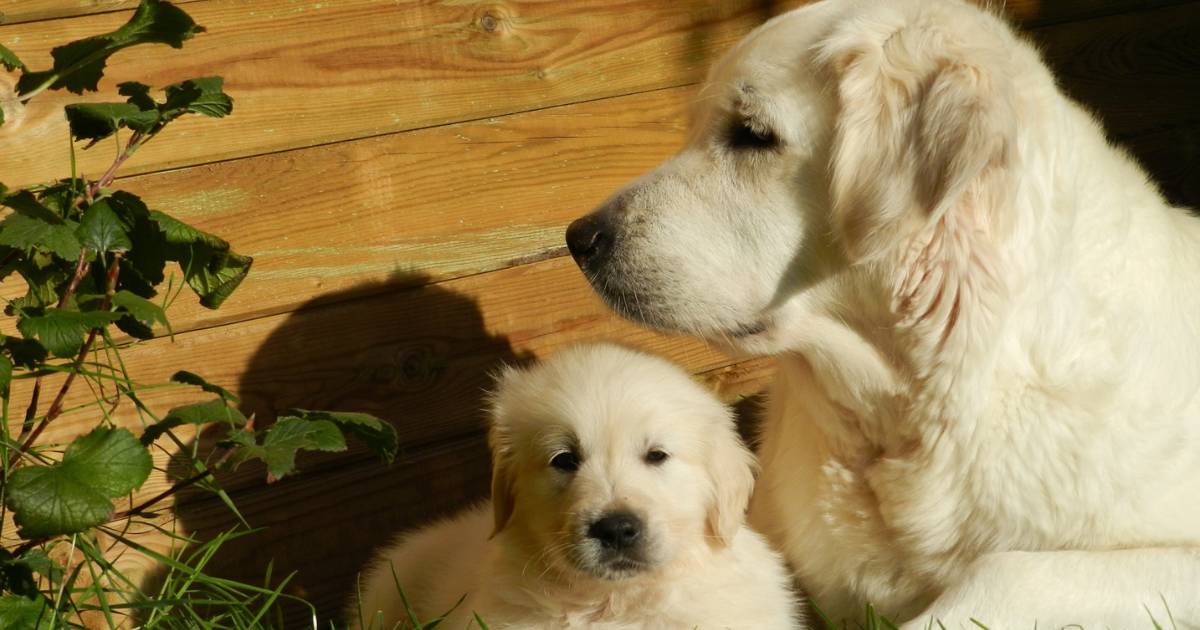 Behold the Golden Retriever Growth Chart!
By the time they reach one year, both dashing dudes and gorgeous gals will have soared to their peak height: 23-24 inches for males and 21.5-22.5 inches for females.
Keeping a keen eye on your golden retriever puppy's health during their formative years and ensuring they hit those growth milestones is the secret sauce to their long-term well-being.
That's where the mighty golden retriever growth chart swoops in to save the day!
Beware, malnutrition and stunted growth or overfeeding and rapid growth can both cast a dark shadow on your furry friend's health. But how can you tell if your puppy is on the right path?
Fear not! While each golden retriever puppy is a unique and beautiful snowflake, they journey through similar growth stages and aim for similar weight goals.
Below, you'll uncover a treasure trove of weight charts for male and female golden retrievers, revealing the precise weight range they should fall into at each milestone.
As we embark on this quest, we'll explore the five main stages of puppy growth, unveiling the key developmental achievements they should reach in each phase.
Later, we'll delve deeper into the importance of ensuring your golden retriever is neither too pint-sized nor too colossal for its age and wrap up with some golden tips for healthy growth.
Puppy Growth Stages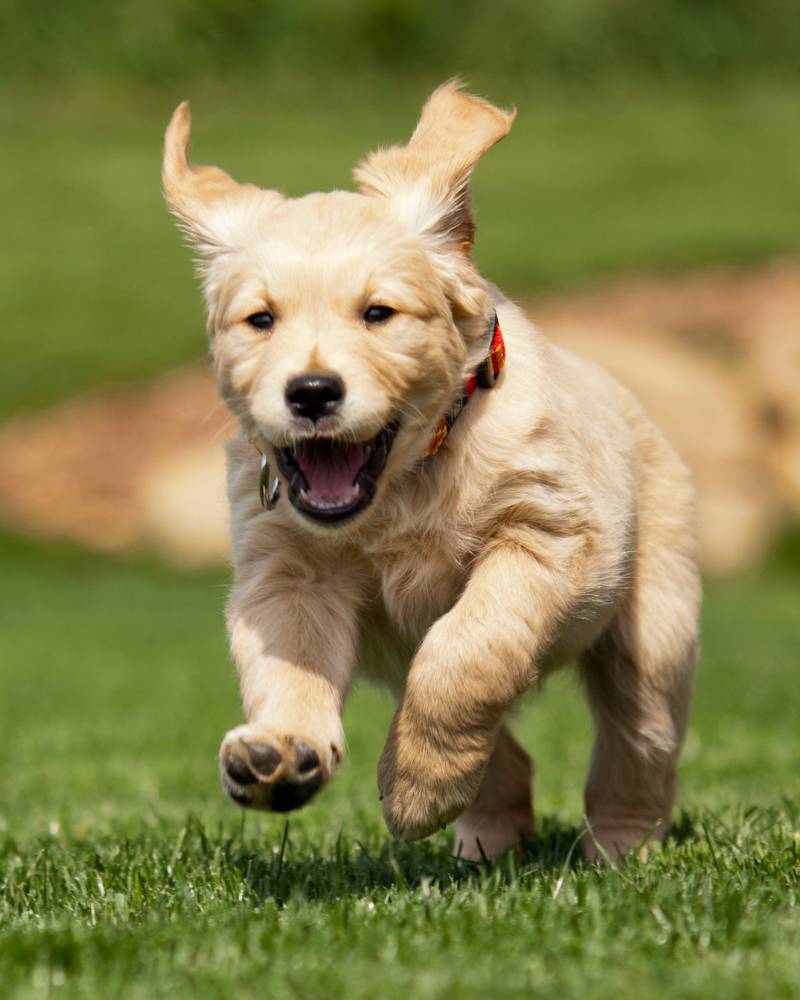 Puppy pals, gather 'round! We're about to embark on a thrilling journey through the first year of life, exploring the milestones and shenanigans of our beloved Golden Retrievers!
Each stage of puppyhood is sprinkled with developmental milestones, unique behaviors, and specialized care to help these furballs flourish.
Stage One: The Neonatal Chronicles
From birth to about three weeks old, these little bundles of joy are pretty helpless. Their mama's got their back, providing nourishment, warmth, and cleanliness.
Witness the magic as their eyes and ears open, tiny teeth emerge, and they start crawling and wobbling around. The itty-bitty puppies usually weigh under five pounds, so keep an eye on the littlest of the litter – the runts.
These tiny warriors might struggle early on, competing for their mom's attention and sustenance. Sadly, some may not make it, especially in larger litters of 4-12 pups (with 8 being the golden standard).
Mama dog might reject the runt, which is a part of nature's mysterious ways.
Key Neonatal Milestones:
Eyes and ears open
First baby teeth emerge
Crawling and wobbly walking commences
Stage Two: The Socialization Saga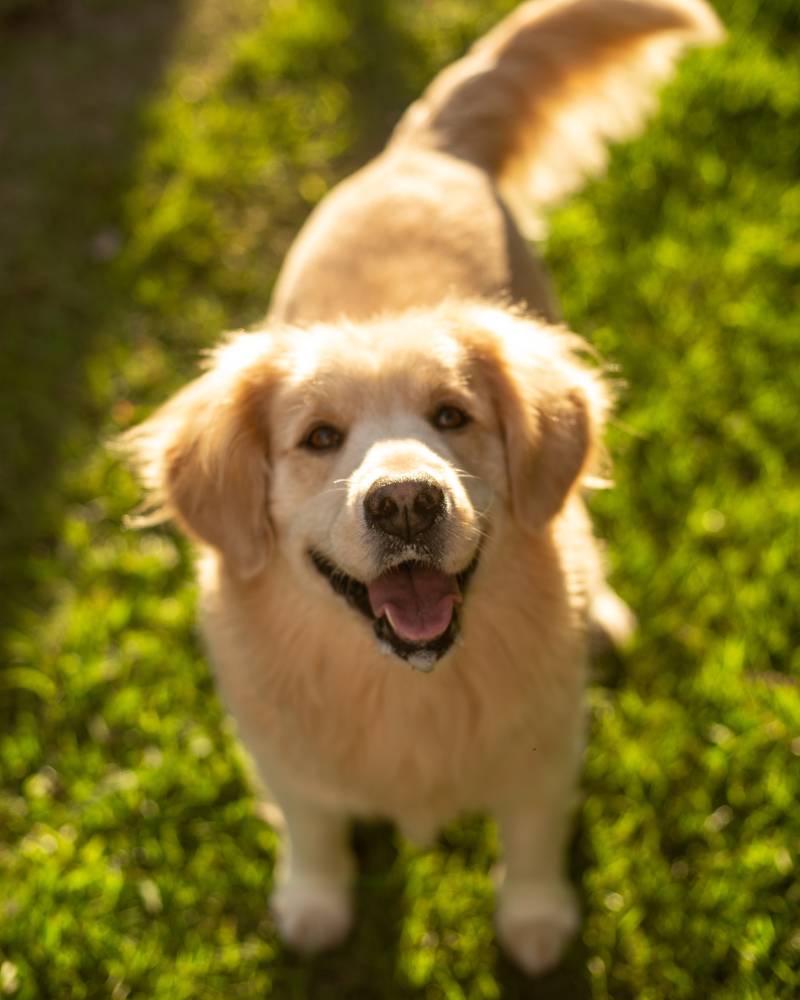 These little adventurers start exploring the world around them between three and twelve weeks old. It's crucial for their growth!
While still relying on their mom, they'll also need to start munching on solid foods. This is the perfect time to introduce them to other humans and animals, car rides, and menacing household appliances.
Get ready for playtime, barking, and growling! Plus, they'll start learning to control their bladder and bowel movements (hello, house training!).
Be prepared for vaccinations around the 6-8 week mark, and don't forget to protect your pup from scary situations, as this period can shape their future behavior.
Key Socialization Milestones:
Eating solid food
Curiosity and playtime
Barking and growling
Gaining control over bathroom functions
First vaccinations
Stage Three: The Juvenile Journey
From three to six months old, your puppy's growth starts to chill out a bit. Their baby teeth will make way for adult chompers, and they can finally leave their mom's side.
This period is essential for training, so be consistent, clear, and use positive reinforcement. Steer clear of punishment, as fear can have long-lasting effects on their behavior.
Spaying or neutering is recommended before they reach sexual maturity.
Key Juvenile Milestones:
Adult teeth emerge
Can be separated from mom
Serious training begins
Spaying and neutering recommended
Stage Four: Embracing Sexual Maturity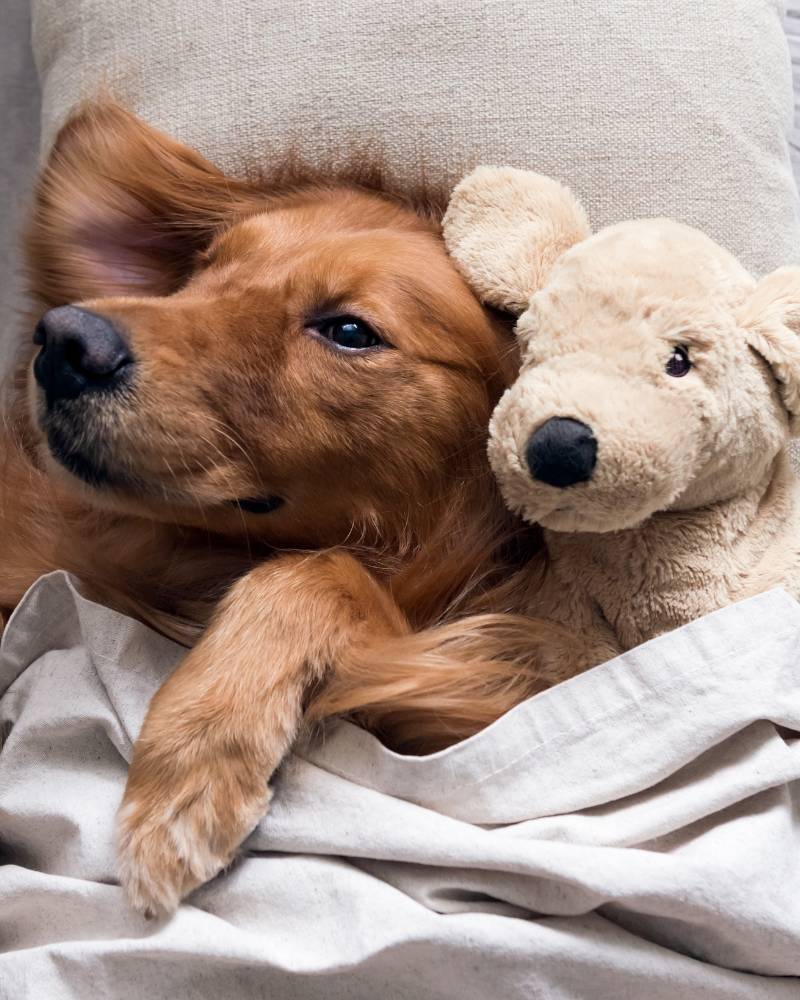 From around six months to 16 months old, Golden Retrievers experience significant growth, reaching their full size. If not neutered, they'll attain sexual maturity, enter heat cycles, and exhibit mating behaviors.
During this time, your 6-month-old Golden will explore its role within the pack, potentially challenging human and animal family members. Territorial behavior may emerge as well.
At first, your Golden may seem to have unusually long legs, but rest assured, they'll even out eventually. With ears and noses growing faster than the rest of the body, floppy ears are common too.
Rapid growth during this stage can make their bones vulnerable to injury. Be cautious of activities that pressure their joints, like big jumps.
Key Sexual Maturity Milestones:
Mating behavior (if not neutered)
Territorial and challenging behavior
Disproportionate growth in legs, ears, and noses
Fragile bones due to rapid growth
Stage Five: Welcome to Adulthood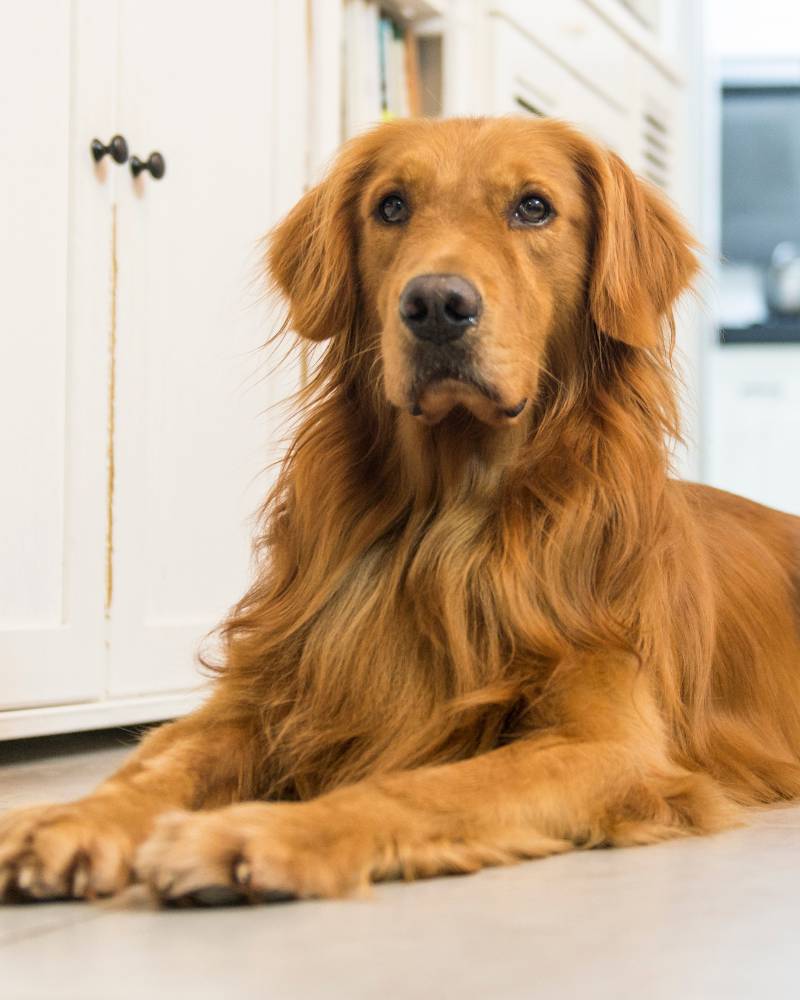 Starting at about 16 months, most Golden Retrievers are considered adults, though some may continue growing. Males typically reach 23-24 inches in height, while females stand at 21.5-22.5 inches tall.
Even though they stop growing taller, they can still gain weight. Don't worry if your Golden appears lean and lanky; they'll fill out as they reach their full size.
Most Goldens are fully grown by two years old, but facial and head features may take an extra year to develop fully. By this time, their weight should fall within the recommended range: 65-80 lbs for males and 55-90 lbs for females.
If your pup hasn't reached the average weight, consult your vet. Adult features will be present, but some may retain puppy-like attributes for a few more years, or even their entire lives. It's not unusual – that's just how Goldens are, and it's one reason they're such a beloved breed.
Key Adult Milestones:
Achieving full Golden Retriever size and weight
Establishing more fixed and consistent character traits
Full coat development
Growth of long hair/feathers on tail and legs
At what age do Golden Retrievers stop growing?
Golden Retrievers typically reach their full height between 16 and 24 months of age.
By around two years, a healthy male Golden Retriever will weigh between 65-80 lbs and stand at 23-24 inches tall, while a healthy female will weigh between 55-90 lbs and reach 21.5-22.5 inches in height.
Golden Retriever Weight Chart
Each puppy is unique, but you can anticipate your Golden to achieve specific weight milestones at various ages.
Target weights differ depending on the dog's gender, with females typically growing faster and males ultimately reaching a higher overall weight. Consequently, we've compiled separate growth charts for both male and female Golden Retrievers.
Your pup's weight also depends on whether they were bred for show or work. Show dogs usually weigh more than working dogs. If you have a working Golden Retriever, their weight should be closer to the lower end of the weight ranges provided, while show dogs should lean toward the higher end.
Male Golden Retriever Weight Chart 
| | | |
| --- | --- | --- |
| Age | Weight Range | % of Adult Weight |
| 7 Weeks | 4 -17 lbs, av. 9 lbs | 12% |
| 8 Weeks | 5 – 17 lbs, av. 10 lbs | 13.5% |
| 9 Weeks | 8 – 17 lbs, av. 12 lbs | 16.5% |
| 10 Weeks | 10 – 22 lbs – av 15 lbs | 20.5% |
| 11 Weeks | 12 – 25 lbs, av. 17 lbs | 23% |
| 3 Months | 16 – 43 lbs, av. 22 lbs | 30% |
| 4 Months | 25 – 44 lbs, av. 30 lbs | 41% |
| 5 Months | 27 – 57 lbs, av. 40 lbs | 55% |
| 6 Months | 29 – 72 lbs, av. 44 lbs | 60% |
| 7 Months | 32 – 77 lbs av. 48 lbs | 66% |
| 8 Months | 49 – 85 lbs, av. 55 lbs | 75% |
| 9 Months | 45 – 77 lbs, av. 61 lbs | 83.5% |
| 10 Months | 50 – 77 lbs, av. 63 lbs | 86% |
| 11 Months | 55 – 77 lbs, av. 68 lbs | 93% |
| 1 Year | 65 – 77 lbs, av, 68 lbs | 93% |
| 2 Years | 65 – 80 lbs, av. 73 lbs | 100% |
Female Golden Retriever Weight Chart
| | | |
| --- | --- | --- |
| Age | Weight Range | % of Adult Weight |
| 7 Weeks | 4 -17 lbs, av. 9 lbs | 13% |
| 8 Weeks | 5 – 17 lbs, av. 10 lbs | 14% |
| 9 Weeks | 8 – 17 lbs, av. 12 lbs | 17% |
| 10 Weeks | 10 – 22 lbs, av. 15 lbs | 21.5% |
| 11 Weeks | 12 – 25 lbs, av. 17 lbs | 24% |
| 3 Months | 16 – 43 lbs, av. 22 lbs | 31.5% |
| 4 Months | 22 – 44 lbs, av. 30 lbs | 43% |
| 5 Months | 25 – 52 lbs, av. 40 lbs | 57% |
| 6 Months | 27 – 61 lbs, av. 43 lbs | 61.5% |
| 7 Months | 31 – 67 lbs av. 45 lbs | 64% |
| 8 Months | 40 – 68 lbs, av. 52 lbs | 74% |
| 9 Months | 44 – 68 lbs, av. 52 lbs | 76% |
| 10 Months | 52 – 68 lbs, av. 60 lbs | 86% |
| 11 Months | 52 – 80 lbs, av. 65 lbs | 93% |
| 1 Year | 55 – 90 lbs, av. 70 lbs | 93% |
| 2 Years | 55 – 90 lbs, av. 70 lbs | 100% |
Potential Risks of Hindered or Excessive Growth
The provided growth and weight chart should clarify the frequently asked question: How much do Golden Retrievers weigh?
It's important to note that not all Golden Retrievers will grow at the same rate or reach the same size. The size of the parents can be a good indicator of whether your dog will be above or below average in size.
While natural variations are not a cause for concern, hindered or excessive growth may pose risks. If a Golden Retriever puppy is malnourished or suffers from an undiagnosed medical condition (such as hookworm or ringworm), their natural growth could be compromised. This may lead to weak bones, muscles, immune system, and a tendency to develop skin and digestive issues in later life.
Growing too rapidly, often due to overfeeding, can also present significant health risks. Besides leading to obesity, excessive weight during the developmental stage can result in skeletal abnormalities, hip dysplasia, and osteochondrosis, a condition affecting the joints.
Tips for Healthy Puppy Growth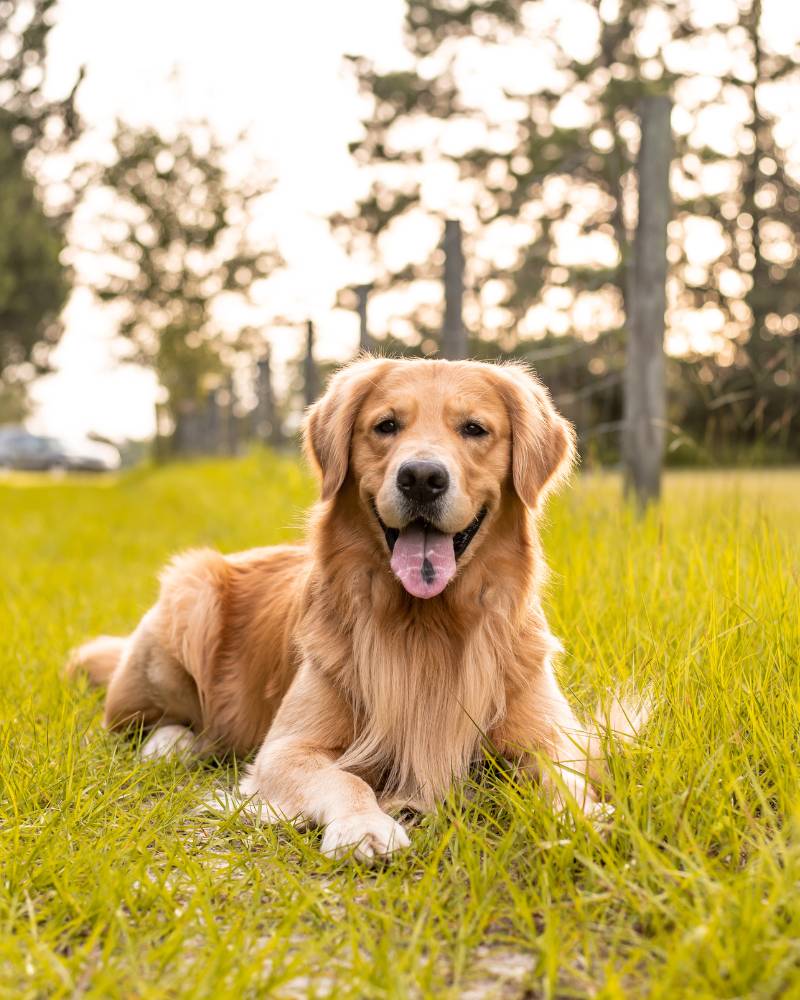 As your puppy progresses through various Golden Retriever growth stages, you can help them stay healthy by following these tips:
Proper Diet
Consult your vet for guidance on the appropriate food for different life stages. Ensure you feed your pup a nutritionally complete and balanced diet specifically formulated for their life stage.
Regular Exercise
Golden Retrievers are prone to weight gain, so regular exercise is crucial. Focus on age-appropriate activities to build muscle and bone strength, prevent obesity, increase agility, reduce destructive behavior, and release pent-up energy. Monitor their weight to ensure it stays within the recommended range.
Vaccinations
After your puppy has been weaned, consult your vet about a vaccination program. Vaccines can help prevent infectious diseases that could affect your puppy's growth and overall health.
Treat Genetic Diseases
Golden Retrievers are susceptible to genetic diseases like aortic stenosis and oral tumors. Proper veterinary care, including medication and/or surgery, can effectively treat these issues. Regular health checks can help identify problems early for better outcomes. Consider pet insurance to help cover costs.
Frequently Asked Questions About Golden Retriever Growth
How Quickly Do Golden Retrievers Grow?
Golden Retrievers, particularly females, grow relatively fast compared to other breeds. Between 7 and 11 weeks, they typically gain mass at an average rate of around 3%.
A 12-month-old female Golden Retriever will have reached their full body size (100%), while males may take up to 18 months to achieve the same.
Both sexes will need an additional year to fill out their chests fully. Adult height is usually reached between 9 and 12 months, with females growing slightly faster than males.
How Can I Estimate My Golden Retriever's Adult Size?
Look at the parents' size to approximate your Golden Retriever's adult size. Contact the breeder to obtain information about the parents and previous litters. Puppies rarely grow larger than their parents, so these measurements can indicate your Golden Retriever's potential size.
How Tall is a Full-Grown Golden Retriever?
A full-grown, healthy male Golden Retriever typically stands between 22 and 24 inches tall, while females are 20 to 22 inches tall.
Which Golden Retriever is the Largest?
In terms of height and body structure, the Canadian Golden Retriever is considered the largest. While the difference may not be immediately apparent, Canadian Golden Retrievers are typically one to two inches taller than their American and English counterparts, with a more noticeable difference in body structure.
Does Early Neutering/Spaying Affect a Golden Retriever's Growth?
Spaying and neutering can offer several health benefits, such as reducing the risk of certain cancers and uterine infections. However, these procedures can also impact growth.
Reproductive hormones, controlled by your dog's sex organs, play a significant role in bone development and ligament and tendon strength.
Early spaying and neutering have been associated with higher incidences of cranial cruciate ligament tears and hip dysplasia in Golden Retrievers. Consult your vet when deciding if and when to spay or neuter your dog.