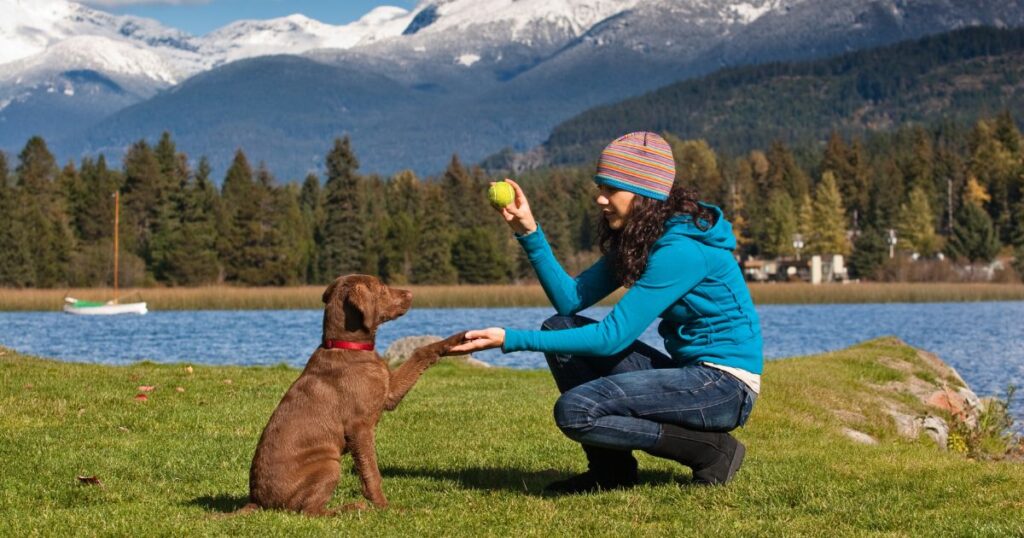 Dog training is an essential component of responsible pet ownership. It not only enhances the bond between dogs and their owners but also promotes safety, well-being, and proper behavior. With a myriad of training methods and approaches available, it is crucial for pet owners to understand the most effective and reliable techniques to make the training process enjoyable and successful.
One of the key aspects of dog training is consistency, as it allows dogs to grasp and internalize commands and expected behaviors more quickly. To achieve this, pet owners should invest time in short, regular training sessions, ideally lasting 10 to 15 minutes, three times a day. Another important factor to consider is the type of methods employed, with reward-based training methods promoting positive reinforcement and fostering a stronger bond between dogs and their owners.
Getting familiar with basic dog training commands, such as come, speak, drop it, and stay, can significantly help pet owners manage common behavioral problems and ensure the safety of their dogs. Remember that patience and persistence will pave the way for a well-trained and happy dog, creating a harmonious and enjoyable living environment for both the pet and its owner.
1. Build a Dog Training Habit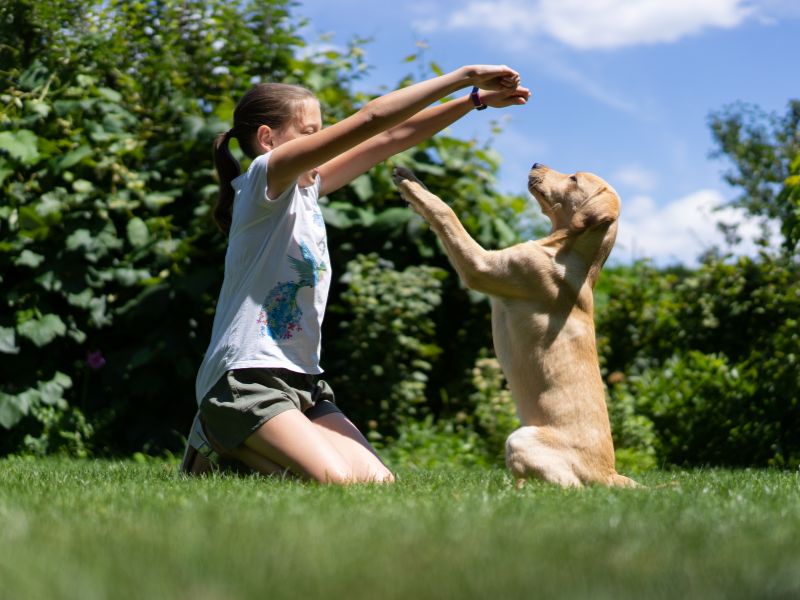 Consistency is key when training a dog, so it is important to build a dog training habit. Training a dog takes time and should be done regularly. Incorporating dog training sessions into a daily routine ensures that both the owner and the dog are committed to the process.
Motivating Yourself
To create a good dog training habit, it's crucial to find ways to motivate oneself. One way to stay motivated is to set specific goals for the dog's behavior or obedience level. Having a clear vision of what needs to be achieved will help keep the focus on the progress of training. Another method of motivation is to schedule training sessions just like any appointment. This will signal the importance and commitment to training.
Tracking progress is also an effective motivation tool. Whether it is through a journal or an app, documenting the dog's achievements serves as a reminder of the progress made and highlights areas that need more practice. Celebrating small milestones along the journey and sharing successes with friends or fellow dog owners can also provide further motivation.
In order to create a lasting dog training habit, it is essential to find ways to keep oneself engaged and dedicated to the process. By setting goals, scheduling sessions, tracking progress, and celebrating milestones, a strong foundation for a successful dog training routine can be developed.
2. Getting Started
When beginning to train their dog, one should always start in a quiet environment with minimal distractions, such as a room inside the house. This allows the dog to focus on the task at hand and learn more effectively (RSPCA).
Training sessions should be kept short and frequent to prevent the dog from becoming overwhelmed. Patience is crucial as dogs learn at different rates, and some may take longer to understand new commands than others (RSPCA).
For those who are introducing a new puppy to their family, basic training should start as soon as possible. Some of the foundational training tips that can be useful for new dog owners include (Dogs Trust):
Establish a consistent routine and schedule for feeding, potty breaks, and exercise
Use rewards such as treats and praise to reinforce positive behaviors
Avoid using punishment as a means of training, as this can lead to negative associations and fear
Practice socialization by introducing the dog to various environments, people, and other animals in a controlled and positive manner
During the training process, it's essential for the owner to stay persistent and patient. First-time dog ownership can be challenging, but over time, the bond between the owner and their canine companion will grow stronger (Blue Cross). With dedication and the right approach, a well-trained and happy dog will be the reward.
3. Choose the Right Rewards
When training a dog, selecting the appropriate rewards is crucial for success. Different dogs may be motivated by various types of rewards, but typically, food treats and toys are popular choices.
Firstly, it's essential to identify the dog's preferences. Observe the dog's reaction to various treats and toys to determine their hierarchy of rewards. Higher-ranked rewards should be used for more challenging tasks, such as learning new behaviors or working in a distracting environment1.
Food Treats
Food rewards are often the most effective for training new behaviors or complex tasks that require a lot of focus and effort from the dog2. When giving food rewards, make sure they are:
Small in size, so they don't interrupt the training session
Palatable and appealing to the dog
Varied, to keep the dog engaged and interested
Playtime and Toys
Some dogs may be more motivated by play and toys than by food2. Using a favorite toy as a reward can be a fun and engaging way to reinforce good behavior. This method can help build and strengthen the bond between the dog and the trainer. Consider incorporating the following toy rewards:
Fetch toys, like balls or frisbees
Tug toys, like rope or plush toys
Puzzle toys, to challenge the dog mentally
Timing and Consistency
Regardless of the type of reward, proper timing is crucial3. Deliver the reward as soon as the dog exhibits the desired behavior. This helps the dog associate the correct behavior with the positive reinforcement.
Also, maintain consistency by not changing the reward type mid-session. This can confuse the dog and hinder their learning progress. When starting with a new reward, transition gradually during separate training sessions to avoid confusion.
In conclusion, the right rewards are essential to make dog training sessions successful. Identify the dog's preferences and ensure proper timing and consistency when delivering rewards.
4. Learn to Use an Event Marker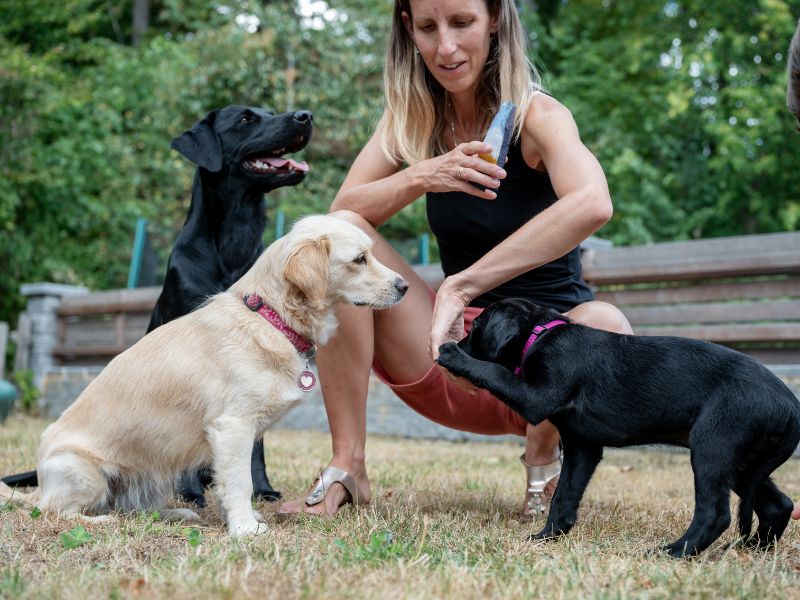 An event marker is a powerful tool that can improve the effectiveness of dog training. It is a sound or word that lets the dog know exactly what the reward is for, making it easy to reinforce desired behaviors1. There are various types of event markers, such as clickers or verbal markers like "yes." The key is to be consistent with the chosen marker and always follow the marker with a reward2.
Introducing an event marker to your dog is a simple process. Begin by finding a quiet place with minimum distractions3. You don't need to ask your dog to perform any specific behavior at this stage. They can be standing, sitting, or laying down in front of you.
Select a specific marker, such as a click from a clicker or the word "yes," and ensure you stick with that choice3. To help your dog understand the meaning of the marker, pair it with a reward, such as a treat. For example, when using a clicker, you would click the device and then immediately offer a treat to your dog. Repeat this process several times to establish a strong association between the marker and the reward2.
Once your dog associates the marker with the reward, you can begin to use it in training situations. Remember to:
Say the marker consistently2.
Always follow the marker with a treat2.
Use the marker during training sessions to reinforce the desired behavior1.
Incorporating an event marker into your dog training routine can lead to quicker results and a happier, more well-behaved dog.
5. Start Easy
When it comes to dog training, it's essential to start with easy tasks and basic commands that every dog should know. According to the American Kennel Club (AKC), there are five fundamental commands every dog should learn:
Come
Heel
Sit
Stay
Down
Begin by working on one command at a time, and keep training sessions brief, around five to 10 minutes each. Be patient and provide plenty of positive reinforcement, rewarding the dog with praise or treats when they successfully perform a command.
During training, it's essential to stay consistent and use the same verbal cues, hand signals, and rewards. This consistency will help the dog understand the commands more quickly, and they will be more likely to respond correctly. The Spruce Pets recommends starting with the "Come" command, as it is a straightforward cue that can help build the foundation for other commands.
It's also crucial to work at a pace that is comfortable for the dog. As they become more proficient with basic commands, gradually introduce more complex instructions. At times, it may feel as if progress is slow, but it's crucial to remember that each dog learns at their own pace, and patience is key.
To help make training more engaging and enjoyable, consider incorporating games and fun activities into the sessions. For example, one can play hide-and-seek with the dog while practicing the "Come" command – this not only reinforces a positive association with the command but also strengthens the bond between the dog and the trainer.
In conclusion, starting with easy commands and working up to more complex instructions ensures a strong foundation for a well-trained and happy dog. Remember to keep training sessions short, positive, and engaging to create the best learning environment for the dog.
6. Pick the Right Goals for Your Dog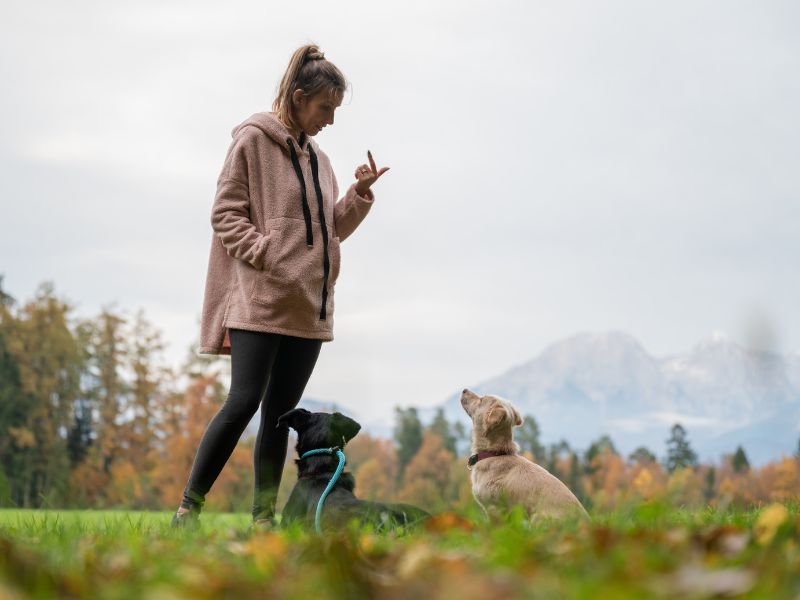 When starting with dog training, it's essential to set realistic goals tailored to your dog's age, breed, temperament, and abilities. Setting the right goals will help ensure a successful training experience for both the owner and the dog.
First, assess your dog's current skill level and identify areas of improvement. You may want to start with basic obedience training, such as teaching your dog to sit, stay, and come, which will create a solid foundation for future training. Keep in mind that puppies have shorter attention spans, so be patient and keep sessions short and fun, focusing on one command at a time. For older dogs or dogs with previous training, you can consider advancing to more complex skills or addressing specific behavioral issues.
Next, determine the appropriate training method for your dog. Some options include group classes, one-on-one training, board and train, day training, and self-led training NPR. Consider your dog's socialization needs and your own availability to make the best decision.
It's also essential to establish a consistent training routine. Allocate regular, dedicated time for training, ideally in 10- to 15-minute sessions three times a day MasterClass. Incorporate positive reinforcement by using rewards, such as treats, toys, or praise, to encourage your dog's progress.
Lastly, don't forget to be patient and stay positive. Training takes time, and progress may be gradual. Celebrate small victories and remember that setbacks are normal. Your dog will learn at their own pace, and persistence and consistency are key to achieving long-term success.
Remember to always tailor the training goals to your dog's unique needs and abilities, and maintain a positive and patient approach throughout the training process. Happy training!
7. Sandwich the Hard Stuff
When training a dog, it's important to be mindful of the fact that learning new commands or tricks can be challenging for them. One helpful approach is to sandwich the harder tasks between easier ones during training sessions. By doing this, dogs can maintain their motivation and feel rewarded for their efforts while tackling more difficult commands.
Take time to identify which commands are more challenging for your dog, as this may vary depending on a range of factors, such as breed, age, and individual temperament. For example, commands like 'stay' or 'roll over' might be harder for some dogs compared to 'sit' or 'fetch'. Begin and end the training session with easier commands, placing the more difficult one in the middle.
Another useful strategy is to use positive reinforcement and rewards, such as treats or verbal praise, to encourage your dog's progress. When they successfully execute a command, regardless of its difficulty, acknowledge their efforts and provide a suitable reward. This will help maintain your dog's interest and enthusiasm throughout the training process. Keep in mind that patience and taking your time is crucial, as pushing a dog too hard can lead to frustration and loss of motivation.
During the training sessions, it's also important to control the environment to minimize distractions. Choose a relatively quiet and clutter-free area, such as your living room or backyard, to allow your dog to focus on the tasks at hand. Additionally, being consistent in your training approach and maintaining a calm and reassuring demeanor will contribute to the success of the 'sandwich the hard stuff' method.
By incorporating the 'Sandwich the Hard Stuff' approach into your dog training routine, you can effectively support your pet in mastering challenging commands while building their confidence and fostering a stronger bond between you and your canine companion.
8. Avoid Punishing Your Dog
Punishing your dog is not an effective method of training and can have negative impacts on your dog's behaviour and well-being. Instead, focus on using positive reinforcement techniques to encourage good behaviour and discourage unwanted actions.
One of the reasons to avoid punishment is that it can increase stress and anxiety in your dog, leading to further unwanted behaviours. According to Great Pet Care, punishment may confuse your dog, making them fearful and anxious instead of learning the desired behaviour.
When it comes to training, it's important to remember that your dog is not a miniature adult but an infant that requires guidance and nurturing. As mentioned by the American Kennel Club, adjust your expectations accordingly considering your dog's physical and mental limitations. Focusing on reward-based methods allows to positively reinforce good behaviour, rather than punishing what they do wrong.
A useful technique to deter unwanted behaviour without punishment is distracting your dog from the action that requires correction. Top Dog Tips recommends using distractions such as clapping or a shaker can to momentarily take your dog's attention away from the undesired behaviour. Once the distraction is successful, you can redirect your dog's focus to a more appropriate activity.
In conclusion, avoiding punishment and focusing on rewards and positive reinforcements can help nurture a well-behaved dog while strengthening the bond between you and them.
9. Teach Your Dog to Work for Food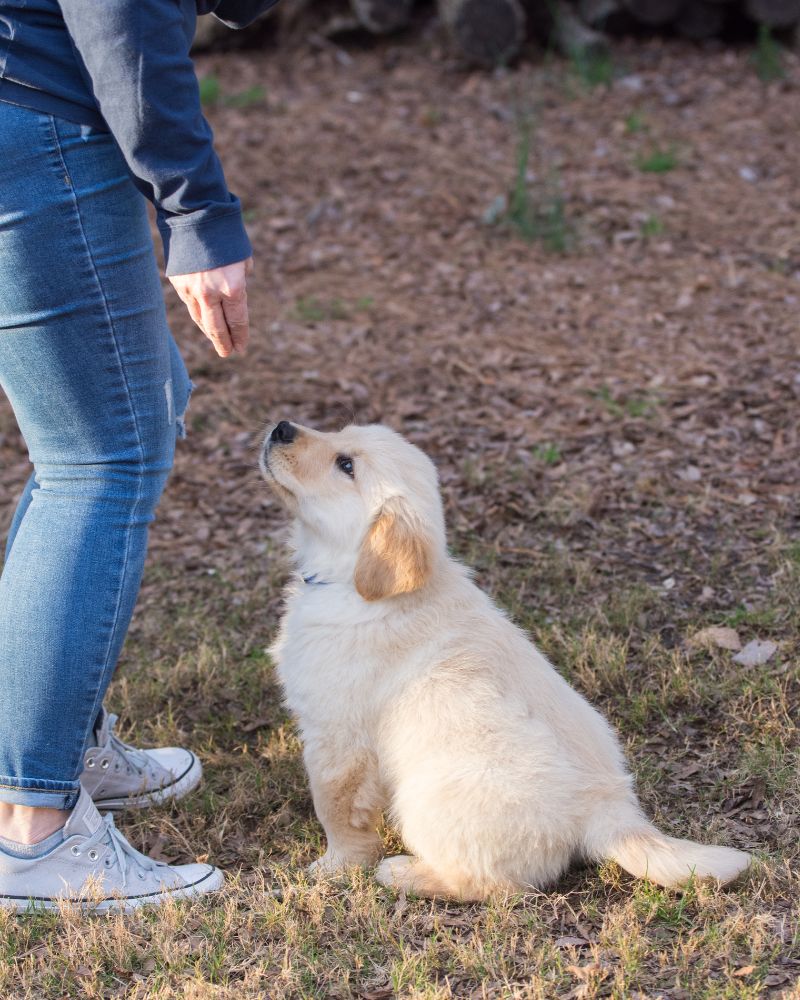 Teaching your dog to work for food is an excellent way to build their focus, motivation, and mental stimulation. Food has a strong reinforcing effect, making dogs eager to learn and perform tasks to earn their rewards.
Start by selecting tasty, nutritious, and easily accessible treats. Small, soft pieces of cooked chicken, cheese, or dog-safe fruits and vegetables make great training treats. Additionally, consider using a treat pouch or easy-to-reach pocket to keep the rewards at hand.
Once your dog understands the value of the treats, begin incorporating them into basic training exercises such as sit, stay, and come. Gradually increase the difficulty and duration of tasks as your dog becomes more proficient. It's essential to reward your dog consistently and generously, especially when they execute new or challenging tasks correctly. Maintain a positive and encouraging tone throughout the training process.
In addition to utilizing food for basic obedience training, consider incorporating it into more elaborate games and exercises. For example:
Puzzle toys: These interactive toys encourage your dog to use their intelligence and problem-solving skills to access the hidden treats. Examples include treat balls, snuffle mats, and Kong toys.
Nose work: Hide small portions of food or scent items in various spots around your home or yard, challenging your dog to locate them using their sense of smell. This exercises both their nose and brain while offering mental stimulation.
Training for tricks: Teach your dog fun and engaging tricks like shake, roll over, or play dead, rewarding their success with food. This not only strengthens your bond with your dog but also keeps them mentally and physically challenged.
Remember to monitor your dog's calorie intake to prevent overfeeding or weight gain. Balance the use of treats by reducing their regular meals proportionately, ensuring they maintain a healthy weight while enjoying their training activities.
Teaching your dog to work for food not only promotes a positive training environment but also deepens the bond between you and your canine companion. With patience, consistency, and a pocketful of treats, you'll have a happy and well-behaved dog in no time.
10. Manage Your Dog Outdoors
Taking your dog outdoors for activities and training sessions can be a great way to keep them mentally and physically stimulated. However, it is essential to manage your dog's behavior effectively to ensure a safe and enjoyable experience for both of you.
One of the key factors in preventing unwanted behavior outdoors is teaching your dog reliable recall. Start by slowly walking away from your dog, calling their name, and rewarding them with a treat when they come to you The Spruce Pets. Gradually increase the distance and work on recall in more challenging environments.
It is also important to keep training sessions short and focused. Most dogs do best with training sessions of 10 to 15 minutes or even five minutes, especially if you can do it multiple times per day Best Friends Animal Society. Be mindful of distractions and choose more secluded areas to train, as dogs learn more effectively in calmer environments.
Here are some easy outdoor dog training activities to consider:
Fetch: Teach your dog to retrieve a ball or toy and return it to you. This activity can stimulate their hunting instincts and provide physical exercise.
Tug-of-war: Play tug-of-war with a sturdy rope toy, ensuring you stop the game if your dog becomes overly aggressive.
Hide and seek: Hide treats or toys in the yard and teach your dog to search for them using their senses, particularly their sense of smell.
While managing your dog outdoors, consider using these tools to aid in their training and safety:
A leash or long line: This helps with maintaining control of your dog and practicing recall without the risk of them running off.
Portable water and food bowls: Keep your dog hydrated and nourished during outdoor training sessions.
Carriers or crates: When traveling or visiting new locations, a secure carrier or crate can provide a safe space for your dog.
By implementing these outdoor training tips and tools, you can effectively manage your dog's behavior and help them become a well-mannered and happy companion.
11. Do the Recall Challenge Test
The Recall Challenge Test is a great way for dog owners to assess their dog's recall abilities and improve them even further. This test involves a series of steps designed to progressively challenge your dog while building the habit of recalling consistently.
Start by setting up a controlled environment, such as a large indoor room or fenced outdoor area. Make sure there are no distractions so your dog can focus entirely on the task at hand. Have some high-value treats or their favorite toy on hand as rewards for successful recalls.
Begin with short distances and gradually increase them as your dog masters the recall at each stage. It's important not to rush through this process, as practicing in a consistent and controlled manner is key for success1. Here are the stages for the Recall Challenge Test:
Stage 1: With your dog on a 6-foot leash, give your recall cue and back up as your dog moves toward you. Reward with a treat or toy as soon as they reach you2.
Stage 2: Graduating to a 20-30 foot line, slowly give your dog more distance while practicing the recall cue3. Reward consistently and ensure you maintain their focus.
It's crucial not to skip steps and to avoid calling your dog when you're not confident they'll respond. For instance, if someone is giving your dog treats, don't try to call them back4.>
Throughout the Recall Challenge Test, always use positive reinforcement and praise to encourage your dog. Developing a strong relationship with your dog contributes to their willingness to respond to the recall cue5.
Keep the training sessions short and fun to ensure your dog stays engaged and eager to learn. Consistent practice and patience are crucial for perfecting recall abilities, and the Recall Challenge Test provides a structured, effective approach to achieving this goal.
12. Train for Distractions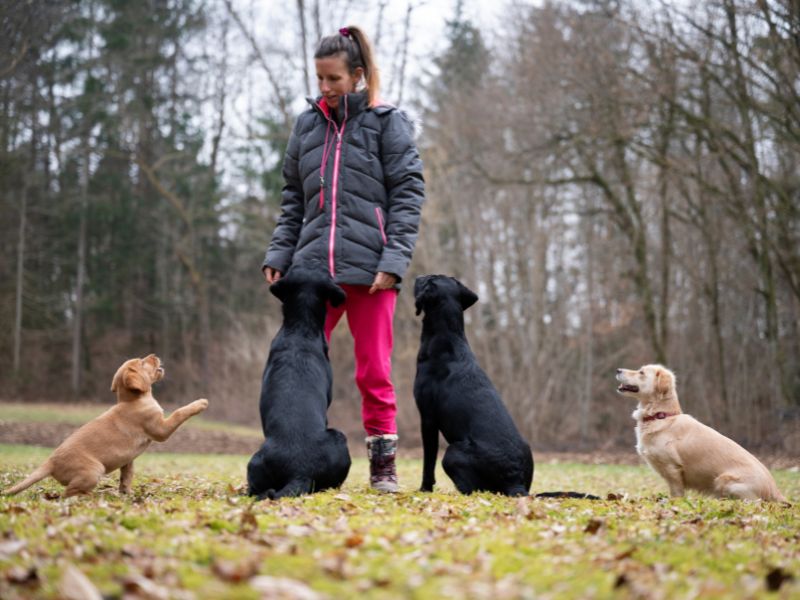 Distracted dogs can be a challenge, but with proper training, they can learn to focus on their tasks and ignore the distractions around them. It is essential to start small and gradually introduce more significant and tempting distractions as your dog becomes more focused and obedient.
One way to begin is by working on basic commands, such as "sit" or "stay," in a controlled environment without distractions. As your dog becomes more proficient, you can slowly incorporate medium-level distractions like placing a bowl of kibble on the floor or having another person jog around the room during training.
Some common types of distractions your dog might encounter include:
Location: exciting or distracting environments like trails, stores, or the backyard
Other beings: living creatures that your dog might find distracting, such as other dogs, people, or critters
Other senses: sensory distractions like smells, sounds, and visual stimuli
To train your dog around distractions, it's helpful to have a step-by-step plan. Here are some suggestions:
Start far away from any distractions
Move 5 feet closer to distractions (e.g., a walking trail with people and dogs)
Move even closer (another 5 feet)
Practice 3 feet from the walking trail
Practice on the walking trail, with other people
Practice on the walking trail, with other people and dogs
In addition to practicing in various situations, you can use high-value treats to reward your dog each time they remain focused and follow commands despite distractions. This will help reinforce the desired behavior.
Remember, patience is key when training your dog to ignore distractions. It can take time for your canine companion to adjust and learn, but with persistence and consistency, you will both succeed in this crucial aspect of training.
13. Use a Training Lead
Using a training lead can be an effective tool in teaching your dog basic obedience commands and improving their behavior on walks. A training lead is helpful in maintaining control over your dog while providing them with the freedom to explore their surroundings.
When selecting a training lead, it's important to choose the appropriate length and type. A three to four foot lead is recommended for teaching your dog to walk with a loose lead. Retractable leads, slip leads, and long lines are not appropriate for this type of training. A flat collar that fits your dog snugly while fitting two fingers beneath it should also be chosen, along with the right length leash.
Training with a lead typically involves teaching your dog basic commands such as sit, stay, come, and down. Reward your dog with treats or praise for following your commands. Another helpful tip is to take extra tasty treats with you on walks, such as pate, sardines, or gourmet wet dog food. Soft, wet foods work best and can be fed to your dog using a plastic toddler spoon.
When training your dog to walk with a lead, start by holding the lead in your left hand and treats in your right hand. As your dog learns to walk on a loose lead, you may gradually move to longer leads, allowing them more freedom while still maintaining control.
If you need to train your dog to use a gentle leader, walk your canine friend with the leash slack taken up. When the dog pulls ahead, maintain tension on the lead to turn their head towards you, restricting the forward surge. Once the dog slows their pace, slacken the tension on the lead. Remember, consistency and patience are crucial for successful training using a lead.
14. Fake It Till You Make It
In the world of dog training, the concept of "Fake It Till You Make It" can be a powerful tool in helping both the dog and the owner build confidence and progress in training. This approach emphasizes the importance of patience, consistency, and positive reinforcement.
One crucial aspect of this method is maintaining a positive attitude and high energy level during training sessions. Owners should consistently praise and reward their dogs for even the smallest improvements. This positive reinforcement will not only motivate the dog to keep trying but also help the owner maintain a better mindset during training.
Another core principle in "Fake It Till You Make It" is focusing on breaking down complex tasks into smaller, more manageable steps. For example, if teaching a dog to retrieve, start by teaching them to touch an object, followed by picking it up, and finally bringing it back to the owner. Gradually increasing the difficulty and complexity of the tasks will allow the dog to experience success and motivation. This incremental process will eventually lead to mastery of the desired behavior.
To make the training experience more engaging and enjoyable for the dog, owners can also introduce unique, special treats or toys as rewards. These exclusive rewards can serve as powerful motivators to encourage the dog's progress in training.
Importantly, dog owners must remember that patience is key. Training a dog, especially one with behavioral challenges, can take weeks or even years. It's vital to remain persistent and committed during this process. Celebrating small victories and maintaining a positive attitude will help both the owner and the dog persevere and achieve the desired results.
15. Film Yourself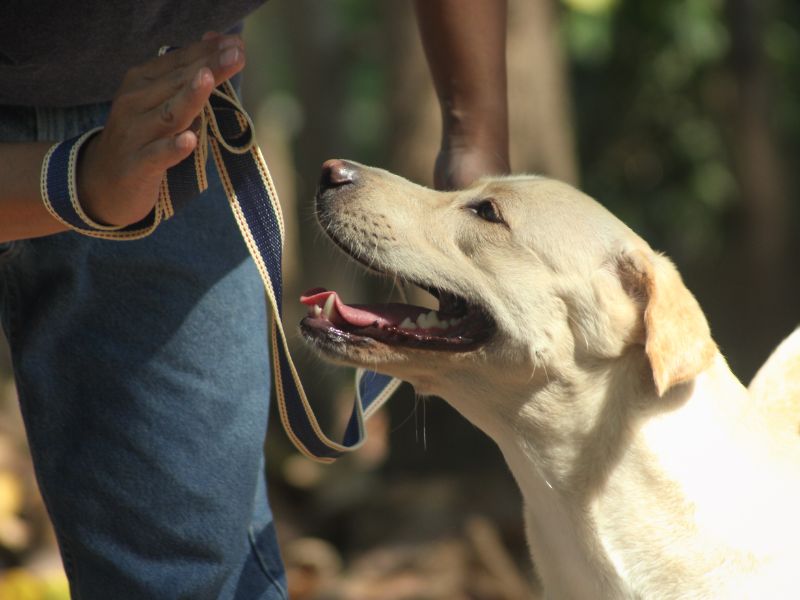 Filming oneself during dog training sessions can be an incredibly helpful way to monitor progress and spot areas that need improvement. By capturing the interaction between the trainer and the dog on camera, one can objectively analyze their techniques and better identify what's working and what might need adjustments.
Using a smartphone or a camera with video recording capabilities will suffice. They can record the training sessions and later review the footage to see if their dog is responding well or if anything is hindering progress. This allows for a clear understanding of the whole process, as well as any mistakes made that might not have been obvious in the moment.
It can be beneficial to share the recorded videos with other dog trainers or experienced friends for feedback. They can provide valuable insights on the training techniques being used and suggest ideas for improvement. One can also join online dog training communities where people can exchange tips, advice, and encouragement.
In addition to evaluating the training methods, filming oneself can help in assessing and improving the dog's environment. If the space appears cluttered or the dog seems anxious, it might be necessary to create an environment that is more conducive to effective learning.
Here are a few things to keep in mind when filming dog training sessions:
Make sure the video captures both the trainer and the dog in frame, so that one can observe the interaction between them precisely.
Record multiple sessions over time to gauge the dog's progress and the effectiveness of the training method.
Note any recurring issues or patterns that might need to be addressed.
By regularly filming and reviewing dog training sessions, a trainer can ensure that they are on the right track and make adjustments as necessary. This highly visual form of self-assessment leads to more effective training and, ultimately, a better-behaved dog.
16. Plan for Problems
One common issue dog owners face during training is the dog's short attention span. To tackle this problem, it is essential to maintain the dog's focus by incorporating short training sessions and incorporating rewards as motivation. It is also helpful to establish a routine and conduct training sessions in a distraction-free environment (WebMD).
Moreover, anxiety can hinder training progress. Therefore, it's crucial to identify the signs of anxiety in your dog, such as excessive panting, pacing, or whining. During training, ensure that your dog is kept in a familiar and comfortable environment. If necessary, postpone training until your dog is in a more relaxed emotional state (AKC).
Another issue to anticipate is inappropriate chewing behavior. A dog might chew on household items or the owner's personal belongings. To curb this behavior, consider the following tips (The Spruce Pets):
Provide appropriate chew toys for your dog.
Keep personal items out of the dog's reach.
If caught in the act, distract your dog with a sharp noise before directing its attention to an acceptable chew toy.
Lastly, some dogs may exhibit excessive jumping when greeting people. Teaching your dog not to jump involves consistency in reinforcing alternative behaviors, such as sitting or standing calmly (The Spruce Pets). Here are some training tips for discouraging jumping:
Use a verbal cue, such as "off" or "sit," when the dog is in the act of jumping.
Reward the dog only when it demonstrates the desired behavior.
Involve friends and family in the training process so that the dog learns appropriate greetings with everyone.
Planning for potential problems during dog training will help address these issues promptly and effectively. Keep in mind that patience, consistency, and positive reinforcement are essential to a successful training experience.
17. Drop Your Standards
It's crucial for dog owners to understand that, during training, not every attempt will be perfect. In fact, it's important to drop the standards when starting training to make the process less frustrating for both the dog and the owner.
In the beginning stages of training, many dogs may only partially complete a command or trick. Dog owners should still reward their pet's efforts during these situations. Praise and gradual progression help instill confidence, trust, and motivation in the dog. Gradually increase the standards as the dog becomes more familiar with the commands and responds better to them1.
Breaking up tasks and commands into smaller, more manageable steps is a great way to help lower the standards initially. For example, while teaching the "sit" command, the dog may initially only lower its bottom a little. At this stage, it's important to reward that small progress, and as the dog continues to practice, gradually expect more complete sitting2.
Additionally, setting realistic expectations is essential for dog training. Every dog will learn at its own pace, and certain breeds might find specific tasks easier or more difficult than others. Patience and a positive attitude go a long way in the training process2.
To recap, dropping the standards in the beginning stages of dog training is essential for successful learning. Dog owners should:
Praise and reward even the slightest progress
Break tasks into smaller, manageable steps
Set realistic expectations for each dog's learning pace
Following these tips will make the training process more enjoyable and rewarding for both dog and owner.
18. Find a Positive Trainer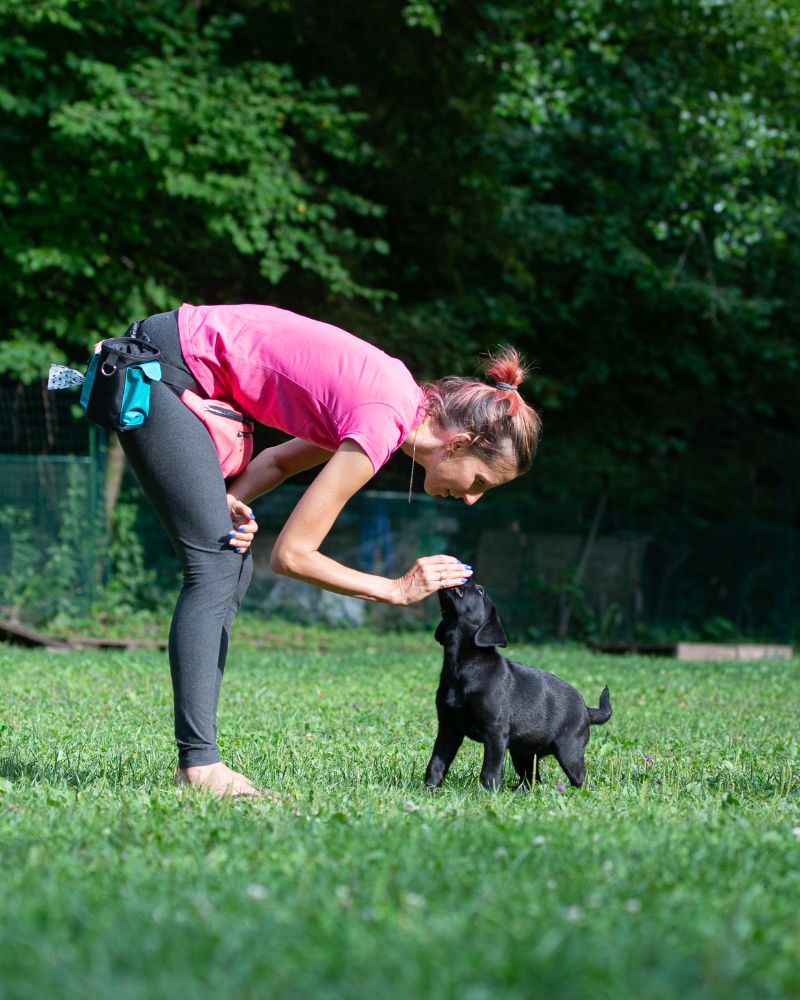 Finding a positive trainer is a crucial part of a successful dog training journey. A good trainer will use methods that focus on positive reinforcement, helping to strengthen the bond between you and your dog. To begin your search for a positive trainer, ask around for recommendations from friends, family, or your veterinarian. Keep in mind that the best trainer for one person might not be the best for you, so it's important to do your own research as well.
One option is to visit potential trainers' websites and social media pages to analyze their training styles. Pay attention to the dogs they have worked with and observe their body language. A happy, relaxed dog is a good indicator of a positive training approach. Dogs that appear stressed or fearful might be a sign of harsher training methods Rover.
Additionally, consider the following factors when choosing a positive trainer:
Ask about the trainer's methods and philosophy: Ensure that their approach is in line with positive reinforcement and that you're comfortable with their techniques AKC.
Credentials and experience: Assess the trainer's qualifications, certifications, and experience working with dogs similar to yours.
Class size and structure: Smaller classes often provide more individual attention and can improve the learning experience.
Convenience and availability: Select a trainer whose location and schedule aligns with yours to increase the likelihood of consistent training sessions.
Compatibility: Since you'll be working closely with the trainer, make sure your personalities and communication styles are a good fit.
By taking the time to carefully select a positive trainer, you will establish a strong foundation for your dog's training journey. This will enhance your relationship with your dog and lead to a well-behaved and happy canine companion.
19. Find the Right Information
When looking for dog training tips, it's essential to find accurate and reliable information. There are many resources available, but it can be challenging to know which ones provide the best advice. In this section, we will discuss a few tips on finding the right information when training your dog.
One excellent source of information for dog training is the American Kennel Club (AKC). They are a well-known organization with a wealth of knowledge on various dog breeds, training methods, and obedience training techniques. The AKC website offers articles and expert advice on training basics, dog sports, and puppy training.
Another reputable source is WebMD. They provide various dog training tips and techniques, including the essential obedience commands every dog should know. Additionally, WebMD offers helpful information on finding professional help and other resources for further learning.
For a more comprehensive and step-by-step approach to dog training, The Spruce Pets is an excellent choice. Here, you can find detailed articles on how to train your dog, from basic obedience and tricks to proofing behaviors and troubleshooting common issues.
When looking for information on dog training techniques, consider the following factors:
Credibility: Make sure the information comes from a reputable source, such as a recognized dog training organization or a certified dog trainer.
Practicality: The information should be easy to understand and implement, with clear instructions and explanations. –Relevancy: Training techniques or tips should be suitable for your dog's age, breed, and temperament.
By considering these factors and making use of the suggested resources, dog owners can gather accurate and beneficial information for training their furry companions effectively.
20. Join a Support Network
Joining a support network can be an invaluable resource for anyone training their dog. These networks provide a community of like-minded individuals who can offer advice, share experiences, and lend moral support during the training process. They also offer the opportunity to connect with professional trainers who can provide guidance and tailored advice.
One option for joining a support network is the AKC GoodDog! Helpline, offered by the American Kennel Club. Through this service, individuals have access to expert dog trainers seven days a week. These trainers are qualified to provide guidance on everything from puppy training to advanced obedience.
In addition to professional support, joining local dog training clubs or online forums can provide valuable peer support. These communities often share tips, discuss common challenges, and celebrate success stories. Some popular dog training forums include:
To get the most out of a support network, it's essential to participate actively. Ask questions, seek feedback, and share your own experiences. Engaging with others can help keep motivation high and ensure more successful dog training outcomes.
Remember, training a dog takes time, patience, and consistency. Utilizing a support network can make the journey more enjoyable and lead to more rewarding relationships between trainers and their canine companions.
21. Practice, Practice, and Don't Give Up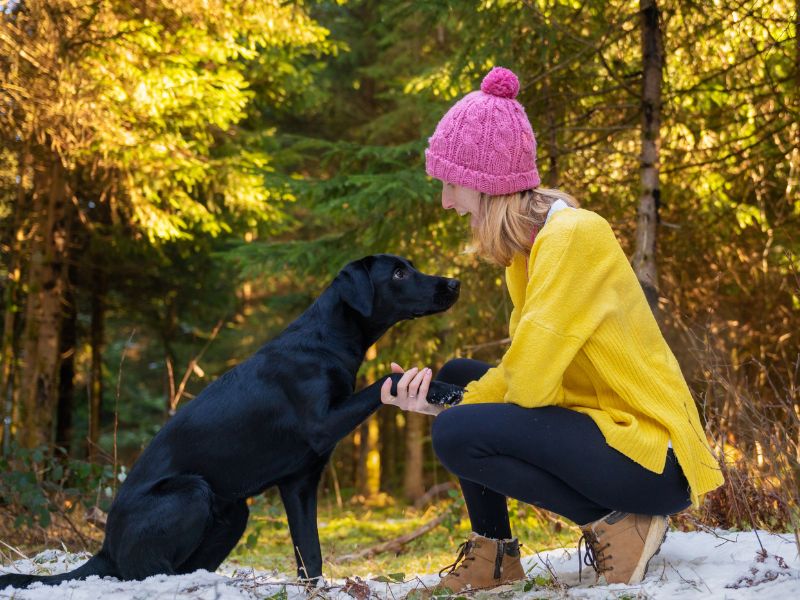 When training a dog, it's essential to remember that practice makes perfect. Consistent repetition and reinforcement will help your furry friend understand and master new commands. Don't expect your dog to learn everything overnight; like humans, they need time and patience to grasp new concepts.
One useful approach is to incorporate training sessions into your dog's daily routine. Short, frequent practice sessions are more effective than lengthy, infrequent ones. Aim for two to three sessions per day, each lasting around 5 to 15 minutes1. This will allow your dog to build on their progress and retain the information more effectively.
During practice sessions, it is crucial to maintain a positive and encouraging atmosphere. Praise your dog and reward them with treats or toys when they successfully perform a command. This positive reinforcement will motivate them to continue learning and obeying commands.
Here are a few pointers for successful practice sessions:
Break down the command into smaller, manageable steps.
Use clear, consistent verbal and visual cues.
Ensure the environment is free from distractions.
Monitor your dog's progress and adjust the difficulty as needed.
Always end on a positive note, even if it's a simple command2.
Remember, persistence is key when it comes to dog training. You may encounter setbacks or plateaus in your dog's learning process, but don't give up. Instead, try adapting your training techniques to better suit your dog's unique learning style or consult a professional dog trainer for guidance. With dedication, patience, and practice, you and your dog will succeed in establishing a strong foundation of trust and obedience.
22. Enjoy Your Dog Training
Training your dog should be a fun and enjoyable experience for both you and your pet. Dog training not only improves your dog's behavior, but also strengthens the bond between you and your furry friend. In this section, we will discuss some tips to make the most of your dog training sessions.
First and foremost, include positive reinforcement in your training sessions. This means rewarding your dog for good behavior with treats, praise, or a favorite toy. According to Enjoy Your Dog, positive reinforcement helps your dog associate their actions with rewards, making them more likely to repeat the behavior in the future.
Secondly, be consistent with the commands and routines. Consistency helps your dog to understand the set rules quickly and reduces confusion. As mentioned by Dog's Best Life, building a routine for your pup can help train your new dog to follow similar patterns.
It's essential to keep your training sessions short and engaging. Dogs, especially puppies, have short attention spans, and multiple shorter sessions are more effective than one long session. The American Kennel Club suggests breaking down the training into smaller steps, gradually increasing the difficulty as your dog progresses.
Here are some helpful tips for enjoyable dog training:
Choose a quiet and distraction-free area for training sessions
Start with basic commands like sit, come, stay, and leave it
Always end training sessions on a positive note
Incorporate playtime into training to make it more enjoyable
Remember to be patient and understanding of your dog's limitations. As The Spruce Pets highlights, it's critical to maintain a calm demeanor to encourage a positive training environment. Keep in mind that every dog learns at a different pace, so try not to compare your dog's progress with others.
By following these tips, you can ensure a fun and successful dog training experience for both you and your pet. Happy training!