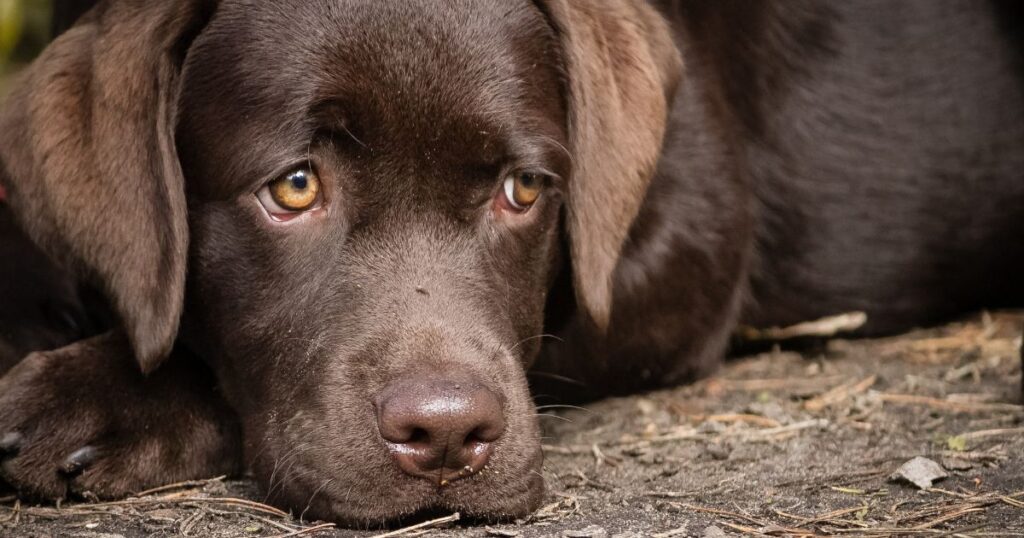 Disciplining a dog is an essential aspect of dog ownership, promoting better behavior and enabling effective communication between the pet and its owner. Contrary to popular belief, discipline does not necessarily mean punishment; rather, it is a crucial behavior-forming process that ensures dogs can adapt to everyday situations.
To discipline a dog effectively, one must utilize a combination of methods, such as positive reinforcement, time outs, and preventative measures like crate training. It's crucial to address the unwanted behavior while it's happening or immediately after, as dogs cannot understand why they are being reprimanded for past actions.
An important aspect of discipline is avoiding violence and keeping emotions in check, as hitting or spanking can severely damage the relationship between the owner and the dog, leading to behavioral issues like insecurity, fearfulness, or aggression. By employing gentle and consistent disciplinary techniques, dog owners can ensure a loving and respectful bond with their pets.
Punishment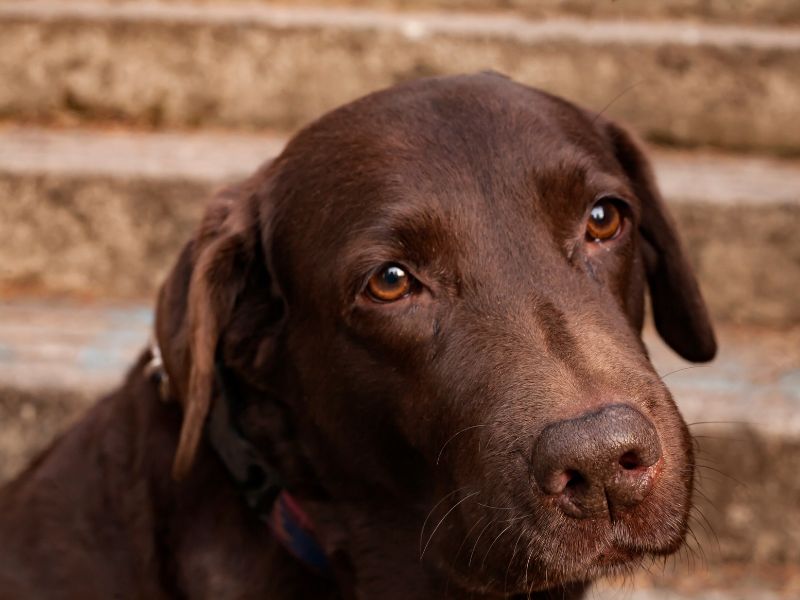 Disciplining a dog is an essential aspect of their training, but it should be done in a humane and effective manner. Punishment as an aversive method, which may involve causing pain to the dog, is neither productive nor ethical. Instead, it is crucial to learn how to discipline a dog without hitting or causing discomfort(source).
One effective method of discipline is using commands to stop misbehavior. When a dog engages in unwanted behavior, give them a command to stop, followed by a command to sit or come to you. Upon compliance, reward the dog with a treat or praise. This method reinforces good behavior and discourages undesirable actions(source).
Another strategy for curtailing bad behavior is to remove triggers that cause it(source). For instance, if a dog barks excessively when they see people walking or cars driving past, closing the curtains can eliminate the trigger and reduce barking. However, this tactic should be combined with other training methods to achieve long-term success.
Negative punishment can also be used to correct a dog's behavior(source). This training technique involves taking away something the dog values, such as attention or a toy, in response to undesirable behavior. This strategy can be effective in developing appropriate habits in your pet, as it allows the dog to associate the loss of something valuable with their misbehavior.
In summary, always use humane and effective methods when punishing a dog. Utilize methods like giving commands, removing triggers, and employing negative punishment to promote appropriate behavior without resorting to harsh treatment.
The Need for Dog Discipline
Dog discipline is essential for maintaining a safe and harmonious environment for both the dog and its owner. It establishes boundaries and helps prevent unwanted behaviors such as aggression, excessive barking, or destruction of property. Proper discipline enables dogs to become well-adjusted members of the family and to interact appropriately with other animals and people.
Disciplining a dog effectively involves using methods such as redirection and positive reinforcement. As the dog performs an undesired behavior, the owner should interrupt the activity and direct their dog towards a desirable alternative, like a toy or a treat. This approach encourages good behavior and avoids the use of punishment, which can be harmful and counterproductive in dog training Hill's Pet.
Establishing consistent rules early on and reinforcing them throughout a dog's life is crucial for success. Regular training sessions can help to reinforce desired behaviors, making it easier for the dog to understand and follow instructions wikiHow Pet.
Proper discipline can also improve the quality of walks and outdoor activities. For instance, training a dog not to pull on the leash enables more leisurely walks and prevents potential injuries for both the dog and owner PawTracks.
Lastly, a disciplined dog is less likely to pose risks to other animals, people, and property. They are more likely to be well socialized and tolerant of changes in their environment, making them a well-rounded and adaptable companion Front Of The Pack.
The Meaning of Discipline in Dog Training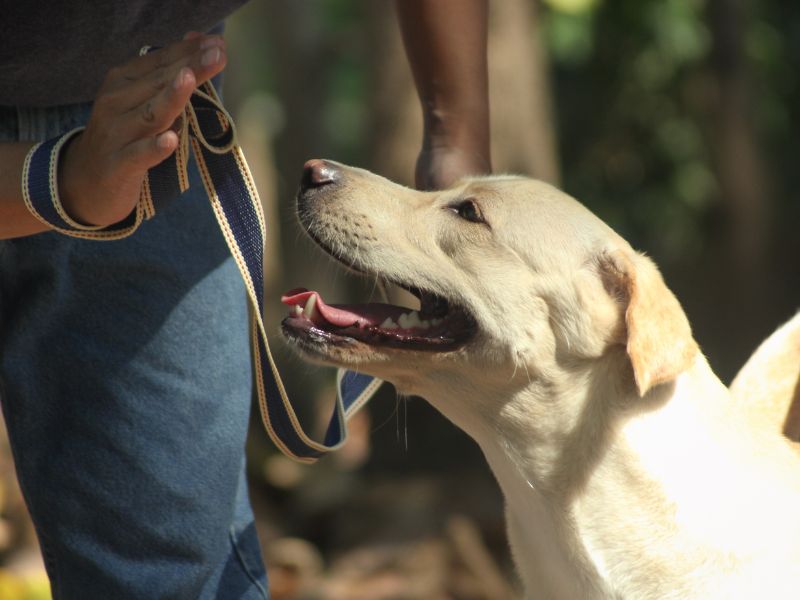 Discipline in dog training refers to a process where the dog is taught to follow rules, exhibit desired behaviors, and abstain from inappropriate actions. Unlike punishment, which focuses on rendering negative outcomes for bad behavior, discipline promotes teaching dogs to understand the expectations and make better choices in their conduct.
One of the key aspects of disciplining a dog is to create expectations and consistently enforce them. This might involve giving your dog a time-out, using a firm voice, or ignoring the negative behavior when it occurs (source). It is important to ensure that the disciplinary techniques used do not scare or harm your dog, but rather guide them to behave appropriately.
Catching your dog in the act is crucial for effective discipline. Addressing a behavior or action while or immediately after it occurs is necessary, as dogs cannot comprehend reprimands based on past actions (source). This timely intervention can significantly contribute to your dog's understanding and learning curve.
Discipline can take many forms in dog training, but humane and constructive methods help change the way the dog thinks and feels without relying on force or fear (source). Some effective techniques for disciplining a dog include:
Time-outs: Removing your dog from a situation to allow them to calm down and reset.
Firm voice: Using a stern tone to communicate displeasure or guidance.
Ignoring bad behavior: Redirecting attention away from unwanted actions.
Remember that patience, consistency, and positive reinforcement are central components of successful discipline in dog training.
Dog Training Without Punishment
Training your dog without using punishment can be both effective and beneficial for the overall well-being of your furry friend. By utilizing positive reinforcement methods, you can teach your dog to behave and follow commands without causing unnecessary emotional distress.
One essential aspect of training your dog without punishment is to focus on rewarding good behavior rather than punishing undesirable actions. Positive reinforcement is a powerful tool that encourages dogs to repeat positive actions and better understand their owner's expectations.
Here are some helpful tips for effective dog training without punishment:
Use treats: Reward your dog with small treats when it performs a desired behavior. This helps assign a positive association with the action, prompting your pooch to repeat it in the future.
Clicker training: Clicker training involves using a specially designed noise-making tool to signal when the dog has performed a desired behavior. This clear and consistent signal provides immediate feedback that helps your dog understand the desired action better.
Patience and consistency: Dogs learn through repetition, so it is crucial to be patient and consistent in your training efforts. Using the same command consistently makes it easier for your Fido to understand your intention.
Redirecting: When your dog engages in unwanted behavior, a useful technique is to redirect its attention to a more appropriate action. For example, if the dog is chewing on furniture, replace the object with a chew toy, and praise your furry friend when it engages with the toy.
By implementing these strategies in your dog training, you can create a strong bond between you and your canine companion while effectively teaching them good manners and habits.
Four Reasons To Discipline Your Dog Without Punishment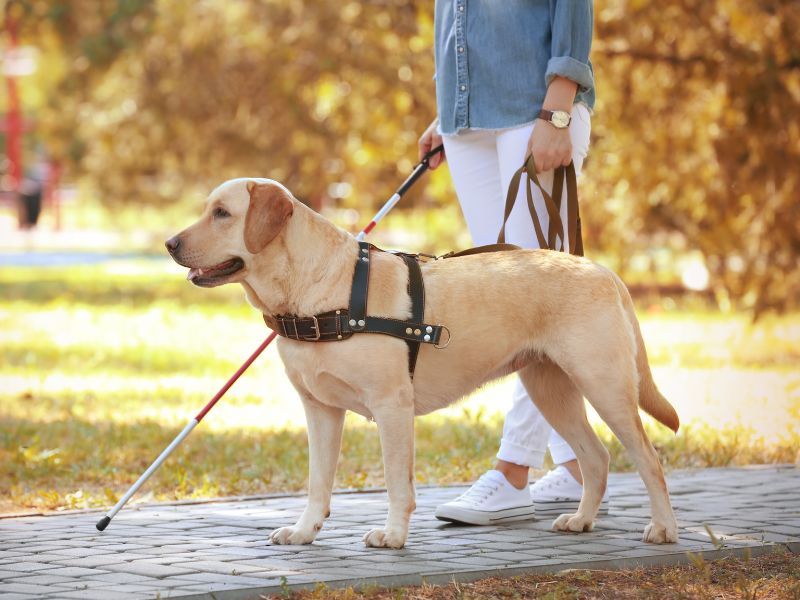 Disciplining your dog without punishment is crucial to establishing a positive learning environment and strengthening the bond between you and your pet. Instead of punishing your dog during training, consider these four reasons to discipline them in a more effective and compassionate way:
1. Maintaining your dog's desire to share your company: According to The Labrador Site, using punishment while disciplining your dog can reduce their desire to be around you. Constantly punishing them may create fear or resentment, which may negatively impact the relationship between you and your pet.
2. Training in various situations: Using punishment as a form of discipline can be difficult to apply effectively in different training situations. By focusing on positive reinforcement and gentle guidance, you can address a wider range of training scenarios and help your dog learn more effectively.
3. Encouraging decision-making skills: The Labrador Site also highlights that continuously punishing dogs may impair their ability or willingness to make decisions. By using balanced discipline methods that don't involve punishing, you empower your dog to make more proactive choices, boosting their confidence and problem-solving skills.
4. Remaining calm as a handler: An essential aspect of effectively disciplining your dog is maintaining a calm and patient demeanor. Using punishment for disciplinary purposes may hinder your ability to stay calm and react appropriately to your dog's training needs. Adopting non-punitive discipline techniques allows for a more focused and effective teaching approach.
Punishment Reduces The Dog's Desire To Share Your Company
One of the undesirable effects of punishment-based training is its impact on the dog's willingness to interact with you. When a dog experiences unpleasant consequences, it can create a negative association with the person administering the punishment.
This can lead to a reduced trust between the dog and their owner, making it less likely that the dog will feel comfortable approaching or engaging in bonding activities. Dogs are social animals, and building a strong, positive relationship with them is essential for their overall well-being and ensuring their happiness.
Over time, the use of punishment in dog training might create a sense of anxiety and fear in dogs when they are near their handlers. This could result in them being less responsive to any attempts at training or learning new behaviors. A dog that is afraid of their owner might also display signs of stress, which can manifest in a variety of undesirable behaviors such as excessive barking, chewing, or even aggression.
Instead of using punishment, many experts recommend focusing on positive reinforcement and discipline when training dogs. This approach encourages desired behaviors by rewarding them, which can help to strengthen the bond between dog and owner, making training sessions more enjoyable and effective for both.
Punishment Is Difficult To Apply Effectively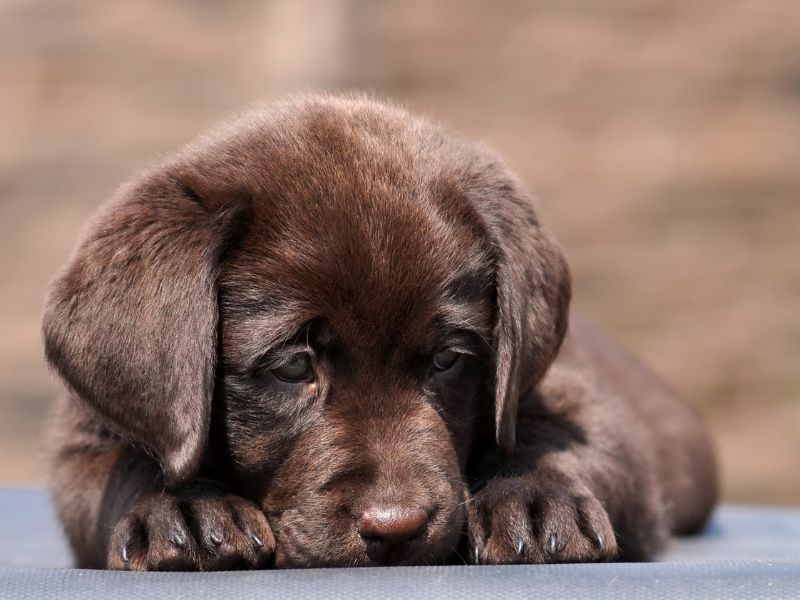 Punishment, as a dog training method, needs to be applied accurately and timely to be effective. This, however, can be quite challenging for dog owners. There are several factors that contribute to the difficulty in effectively applying punishment during dog discipline.
Firstly, the punishment must be unpleasant enough for the dog to discourage the undesirable behavior, but not so severe that it harms or traumatizes them. Striking a balance between these two extremes can be difficult for many pet owners (VCA Animal Hospitals).
Secondly, the timing of the punishment is crucial. It needs to coincide precisely with the undesirable behavior in order for the dog to link the punishment to their action. This can be especially difficult, considering that dogs have a very short window of time in which they can associate consequences with their actions (The Labrador Site).
Thirdly, using punishment consistently is essential for it to be effective. Inconsistency in applying punishment can result in confusion for the dog, making the training process inefficient and frustrating for both the dog and the owner (Pet Expertise).
Lastly, it's important to note that punishment can often lead to side effects such as fear or anxiety in the dog, especially if it's applied too harshly or inconsistently. This, in turn, can make the dog less likely to listen or respond positively to future training efforts (Hill's Pet).
Get Pippa's Training Tips!
For those seeking tips and advice on dog discipline, Pippa Mattinson's training methods are highly recommended. Pippa is known for her expertise in dog training and offers valuable information through various online platforms.
One way to access Pippa's dog training tips is by visiting The Happy Puppy Site, which features a comprehensive collection of guides, lessons, and exercises. Topics covered include positive puppy training, basic obedience commands, and improving dog behavior.
Another resource for Pippa's dog training advice is Dogsnet, where you can sign up for her email newsletter. This will provide regular training tips packed with actionable steps that you can take today. By subscribing, you will also receive core skill updates, discount offers, and course updates.
Lastly, Pippa's dog recall training tips on The Labrador Site can be extremely helpful in teaching dogs to come when called. With step-by-step instructions, videos, and articles, the site offers a wealth of information to help dog owners train their pets effectively.
Incorporating Pippa's training tips into your dog's discipline routine will surely lead to a well-behaved, happy, and obedient canine companion.
Punishment Impairs A Dog's Decision Making Process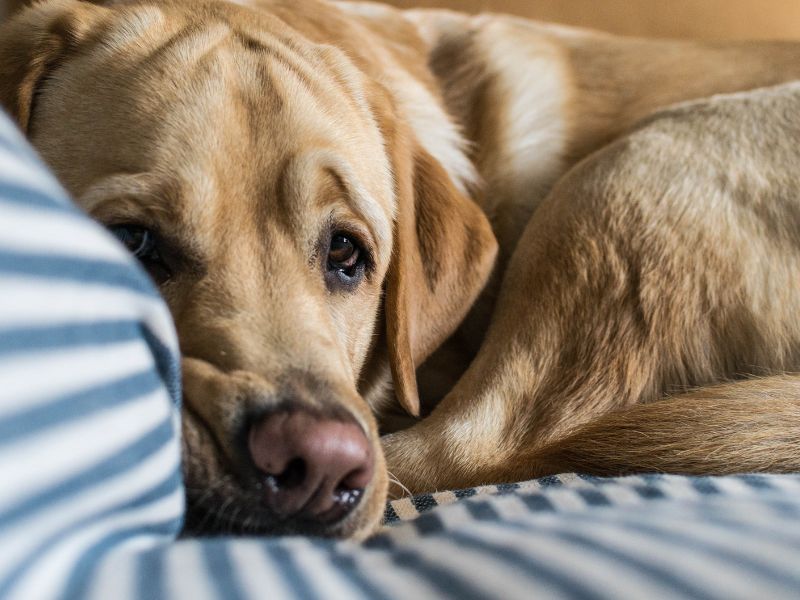 Dogs that are rarely or never punished are more likely to make decisions with confidence and speed. Unfortunately, when dogs are subjected to regular punishment, their decision-making ability is inhibited. This happens because punishment introduces the fear of making wrong decisions, potentially causing the dog to freeze and do nothing instead of taking action.
A crucial part of dog training is allowing them to learn from their own experiences and make informed decisions. With punishment, dogs become hesitant and uncertain, which not only slows down the training process but may also lead to unwanted behavior stemming from their fear and insecurity.
Research indicates that punishment is not an effective method to change a dog's behavior. Instead, a more effective approach is to use positive reinforcement, which has been shown to be more successful in training and disciplining dogs (source).
Positive reinforcement involves rewarding desired behavior and ignoring or redirecting undesired behavior. This method encourages dogs to repeat good behaviors and gradually eliminates undesirable ones, without the risk of impairing their decision-making process.
In conclusion, avoiding punishment helps ensure that dogs can make decisions confidently and quickly. Implementing positive reinforcement techniques in dog training and discipline will support dogs in learning desired behaviors while maintaining their ability to make informed decisions.
Punishing A Dog Can Impair Your Ability To Remain Calm
Disciplining a dog can be a challenging task, and doing so incorrectly may negatively affect the handler's ability to remain calm. Research indicates that when punishment is overly harsh or emotionally charged, it can leave the handler feeling stressed and irritable, even if they appear outwardly composed (source).
Being in such a state may hinder the effectiveness of the dog training process, as an anxious or irritable handler could inadvertently transmit their tension to the dog. This creates an unfavorable atmosphere for learning and bonding with the pet.
It is essential to maintain a calm demeanor when disciplining a dog to ensure that the message is conveyed properly and that the dog does not develop any behavioral issues as a result of the handler's frustration. Here are some alternative methods to traditional punishment techniques:
Redirecting: Instead of resorting to punishment, try redirecting your dog's attention to a more desirable activity or behavior.
Positive reinforcement: Reward your dog when they exhibit appropriate behavior, which will encourage them to repeat that action in the future (source).
Time-outs: If your dog misbehaves, calmly remove them from the situation and give them a brief time-out to diffuser their energy and refocus.
By using these alternative methods and remaining calm throughout the process, handlers can build a strong foundation of trust and understanding with their dogs, resulting in a more harmonious relationship.
Dog Training With Rewards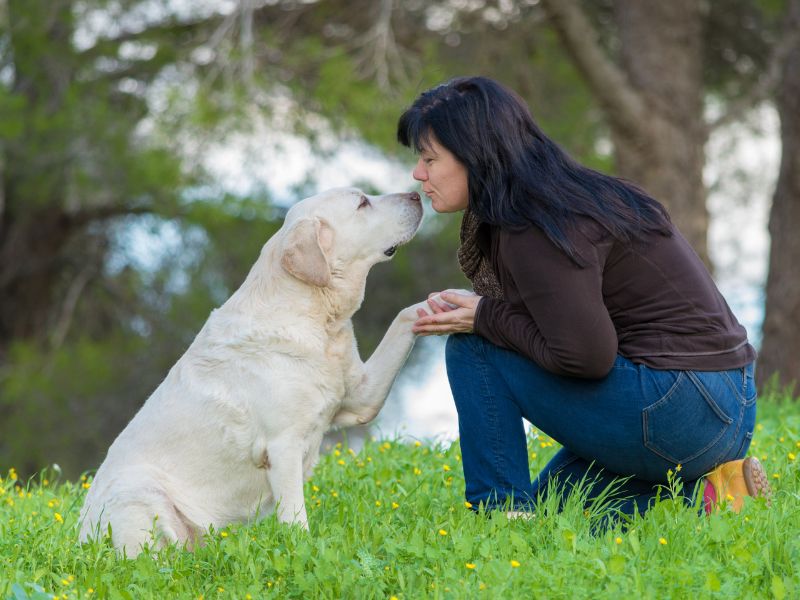 Dog training with rewards, also known as positive reinforcement, is a popular and effective method for teaching new behaviors and reinforcing desired behaviors in dogs. This approach focuses on rewarding the dog for performing a correct action or behavior, rather than punishing them for incorrect or undesirable actions.
Training with rewards is often considered more enjoyable for both the dog and the trainer, as it builds a strong human-canine bond and encourages a love of learning in dogs. According to the American Kennel Club, following certain tips when using reward-based training will help maximize success. One important aspect is using high-value rewards that are specific to the individual dog, such as their favorite treats or toys.
There are various techniques for implementing reward-based training effectively. One common method involves using a clicker or a specific word as a marker to signal the dog that they have performed the desired behavior correctly. This marker is then immediately followed by a reward. This method allows the dog to learn quickly by creating a clear association between the marker, the behavior, and the reward (WebMD).
In addition to treats and toys, other forms of rewards include praise and physical affection. It's essential to keep the training sessions short, fun, and engaging to maintain the dog's interest and motivation. As the dog becomes more proficient at performing the desired behavior, the rewards can be gradually phased out or provided less frequently (Top Dog Tips).
When implementing reward-based training, it's crucial to be consistent, patient, and to adjust the approach to fit the dog's individual personality and preferences. This method can lead to improved communication, trust, and a stronger bond between the dog and their owner or trainer, ultimately resulting in a well-mannered, happy dog.
How About You?
At this point, you might wonder how to apply these discipline techniques to your own dog. Remember, the key to successful dog discipline is consistency, timeliness, and reinforcing good behavior. Always ensure you catch your dog in the act or immediately after to address the unwanted behavior for them to understand and learn.
Consider utilizing commands like "no" to stop undesired behaviors, and follow through with appropriate actions, such as removing them from the room or withholding treats and affection. Keeping a controlled environment helps establish boundaries while promoting positive behavior.
When training your dog, make sure to utilize positive and negative reinforcement, as well as tracking the progress. This may include giving praise or treats when your dog behaves correctly, and withholding rewards or giving time-outs when they misbehave. According to Petcube, withholding your dog's favorite activities or rewards when they misbehave is an effective way to discipline without resorting to physical punishment.
Lastly, it's important to start the discipline and training process early in your dog's life. The earlier they learn the rules, the more likely they are to develop good habits and follow them throughout their lives. As a dog owner, it's your responsibility to ensure your dog is well-behaved, and that starts with effective discipline techniques.